Greek election: voters remain divided over Tsipras 'credibility'
Comments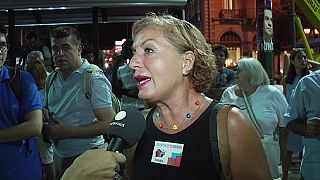 It was all smiles at Syriza headquarters in Athens as Sunday's election results became clear.
Although Tsipras's critics claim his handling of the bailout negotiations and u- turn over austerity had cost the country dear- he still has strong support.
"We were certain about Syriza's victory, even thought during the last months the government made some mistakes. We hope Europe will stop being the Europe of markets and bankers. Over the last five years we have been bleeding. Europe has to change,"said one Syriza supporter.
Opinion polls had indicated a far closer race but some voters said they'd backed Tsipras because he needed time to finish the job he'd begun.
Reporting for euronews Nikoletta Kritikou said there was much enthusiasm for the Syriza win among Tsipras supporters but the Leftist leader knows he must try to bring the country together and made a commitment that he will form a stable government that will safeguard the European future of the country.
On the other side of the Greek capital New Democracy voters were less than confident Tsipras will deliver stability and expressed fears that his actions will worsen one of the worst depressions to hit an industrialised country in modern times.
"We feel our future is uncertain, we do not know what other measures (the new government) will ask for implementing the bailout conditions and I believe that in a very short time we will have elections again in the country," said one woman who said she's voted for the conservative New Democracy party.
Tsipras's first task after forming a government will be to persuade European Union lenders that enough agreed steps have already been taken to ensure the next bailout payment.