Federal Reserve holds interest rates over global concerns
Comments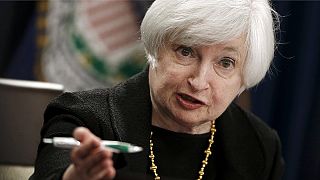 The US Federal Reserve has resisted the temptation to raise interest rates from zero percent.
According to Fed Chair Janet Yellen recent global events which have affected the US economy could also undermine inflation and threaten to hurt domestic growth.
"The recovery from the Great Recession has advanced sufficiently far and domestic spending appears sufficiently robust. However, in light of the heightened uncertainties abroad and a slightly softer expected path for inflation, the committee judged it appropriate to wait for more evidence," said Yellen.
Although Yellen warned that no significant changes were seen in the committee's inflation outlook, the market now believes there is an 18% chance of a rise in October and a 44.2% chance for a December hike.
Asset manager Andreea Condurache said: "What is important to point out after last night's conference by Ms. Yellen is the international connotation of her speech. She seems to be paying more attention to the world economy than what is permitted by her mandate, whose objectives are firstly price stability and full employment. The monetary policy committee members seem to be more and more integrating what is happening internationally in their monetary policies decisions."
The Fed also forecast inflation would creep only slowly toward its 2 percent target even as unemployment dips lower than previously expected.
It sees the unemployment rate hitting 4.8 percent next year and remaining at that level for as long as three years.