US and European stocks rally after Chinese shares halt their slide
Comments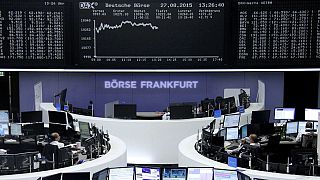 European stock markets on Thursday rallied off the back of gains in the US and a bounce back in China.
By lunchtime Frankfurt and Paris were up by almost three percent while the London FTSE put on 2.26 percent.
There were similar gains throughout Europe after the Dow Jones in New York saw its biggest one-day rise in four years.
Analysts believe fears of the state of the Chinese economy may have eased a little.
"The crisis in China is certainly not over yet but we have to look very closely to see what kind of an effect it has had on the world economy", said Oliver Roth, Head of Specialist Floor Equities at Oddo Seydler Bank. " It is not exactly clear and so we will have to take a very close look and analyse it. But the financial markets have stabilised again for now."
The Shanghai Composite closed around five percent higher. That was certainly a turnaround but it does little to make up for the sharp losses made earlier in the week.
The rebound in the US and Europe had more to do with the Fed indicating that the case for a probable interest rate rise in September now looks less compelling.