Russia downgrades growth forecast as low oil prices and sanctions bite
Comments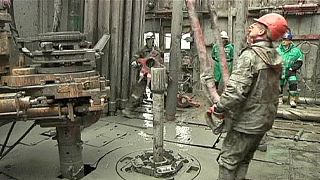 Russia has downgraded it's forecast for the the economy.
The government now says it expects it to shrink by 3.3 percent this year as it grapples with a continuing recession driven by low oil prices.
The price of crude has more or less halved over the past year and has slumped 20 percent in just the last six weeks.
Oil and gas account for more than half of Russia's national revenue.
The continuing slump is piling more pressure on the rouble.
On Monday afternoon the Russian Central Bank set the rate at 70.74 to the dollar, marking the currency's lowest level for 17 years.
In July the central bank suspended daily buying of foreign currency in an attempt to avoid further devaluation, but it doesn't seem to have worked.
A combination of high inflation, which hit 15.6 percent in July, and falling salaries has hit consumers hard.
With oil prices forecast to remain low for some time and sanctions over Ukraine still in place there could still be more pain ahead.