China's markets bounce back after dip
Comments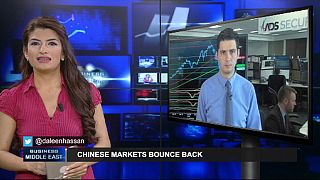 In this edition of Business Middle East we look at the impact of turbulence in the Chinese markets and moves to strengthen dollar resources in Egypt.
China market recovery
Some analysts have described sharp fluctuations in the Chinese markets as a collapse and believe it could reach beyond the Great Wall of China.
Last month, China's two benchmark indexes lost nearly a third of their value.
To help correct this drop, large stakeholders were barred from selling stock shares, while Central Bank funds were used to buy shares.
Chinese stock markets have bounced back, performing strongly for a second day in a row on Friday.
The benchmark Shanghai Composite Index was up 4.59 percent at the close on Friday. And the Shenzen Component Index had made a 4.86 percent gain.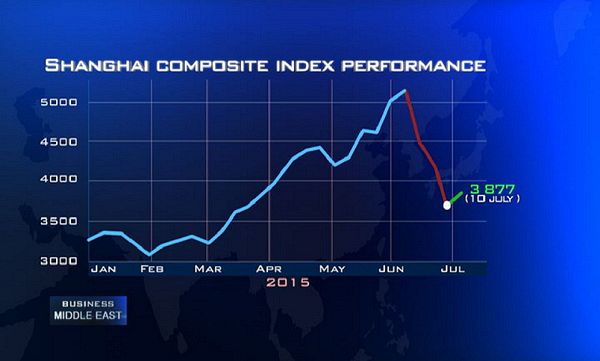 Chinese authorities have taken several actions to turn things around.
They include cutting interest rates, suspending initial public offerings, relaxing margin lending and collateral rules and the enlisting of brokerages to buy stock.
China's government has also announced plans to invest more than 40 billion US dollars, to support growth in flagging economic areas.
Abu Dhabi analysis
Nour Eldeen Al Hammoury, chief market strategist at ADS Securities Abu Dhabi, analysed the movements in the Chinese markets.
Daleen Hassan, euronews:
"What do you make of the Chinese stock trends. Technically speaking, will the recovery continue?"
Nour Eldeen Al Hammoury:
"The recent economic slowdown is increasing investors' fear, leading them to withdraw form the markets into more safe haven investments.
"However, the regulators intervened to stop the bleeding and they're likely to intervene further if things go wrong.
"From the technical analysis point of view, this is the Shanghai Composite Index, which remains within a retracement more on the downside, leading to a drop of 30 percent.
"However, the most important point in this chart is that it rallied by more than eight percent in the past few days.
"Also it spiked right from its 200 day Moving Average, which is a very important average in the short and medium term. But so far, we haven't seen a breakthrough.
"This might be also the reason why the index rallied last week.
"As long as the index is above that Moving Average, the general outlook is likely to remain positive in the short and the medium term."
Daleen Hassan, euronews:
"Do you think reactions to China's market volatility have been exaggerated? What was the impact on MENA markets?"
Nour Eldeen Al Hammoury:
"China is one of the major economies which backed the global economic recovery after the financial crisis.
"Therefore, the continuous slowing down is causing fear among investors.
"However, it's worth mentioning that the slowing down is not significant or dangerous. China is still growing by seven percent, which is the highest growth rate in the world. Traders should not overreact or panic.
"As for the Middle East markets, as always, the equities are sensitive to any global developments, including what's happened in China and Greece.
"However, this week, equities rallied only on hopes of a debt deal between Greece and the EU."
Egypt looks to boost dollar funds
Egypt's second largest state bank is planning to raise 500 million US dollars via a dollar-denominated bond on international markets within three months.
Sources say Banque Misr has been negotiating with international institutions to promote the bond sale.
Egypt returned to the international debt market last month after a five-year hiatus because of political and economic instability.
It has paved the way for the country's banks to tap financial markets for cash.
They are now lining up to raise more dollars to fill a gap that has pushed up inflation and put the country's economic recovery at risk.
It is reported that Banque Misr has held informal talks with potential arrangers for the bond, including Gulf and international banks.