Greek people worry about their savings and their country's future
Comments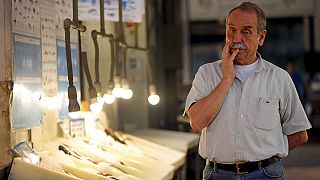 As emergency talks on Greece got underway in Brussels, pensioners in Athens wait in line for their 60 euro daily cash limit.
But a shortage of 10 and 20 euro notes means most are only given one 50 euro note.
People want unrestricted access to their accounts.
"It will be a miracle to have the banks open in two days," said Pavlos Christou (61). "I don't believe this will happen. You have to have a transitional period so that they can win back the people's trust and avoid a run on the banks."
"It's unpleasant," said Emmanuoel Paraskevas (72). "The situation right now is still viable but if it continues, we might have a problem."
"I love my country," Nikos said, "but the government have brought it to the brink of destruction. The poor youth: one and a half million unemployed who live on their parents' social security. What will happen to them?"
Athens intends to negotiate an aid deal soon so that funding can be restored to the Greek banking system.