Greek Prime Minister Tsipras confirms referendum, calls for Greeks to reject creditors' proposal
Comments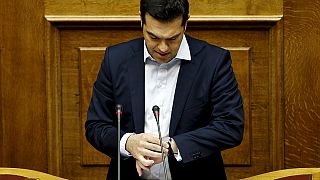 The Greek Prime Minister Alex Tsipras has confirmed Sunday's referendum on the bailout plan proposed by Greece's creditors. He has called on Greeks to reject the deal put forward by the IMF and the EU in order to force a better deal.
He said: "A 'no' vote would mean strong pressure towards getting a socially-just bailout agreement and help the working people."
He repeated his claim that international lenders were trying to blackmail the country.
Earlier on Wednesday Tsipras had put a new offer on the table accepting nearly all of the international creditors demands published on June 28, with several conditions.
The offer came in a letter leaked by the Financial Times newspaper, which detailed five key points to negotiate including keeping the VAT discount for Greek islands, a delaying the increase in the pension age and delaying the phasing out of a solidarity grant to pensioners.
"EU Commission is assessing Greek gov. letter and will present its analysis to the Eurogroup" says VDombrovskis</a></p>&mdash; Stratos Safioleas (stratosathens) July 1, 2015
FOLLOW
OUR
LIVE
UPDATES
BELOW
[YOU] Was Alexis Tsipras right to allow the Greek people to decide on the EU's proposed aid package via a referendum?❏ Yes❏ No❏ I don't know

Posted by euronews on Tuesday, 30 June 2015