Eurogroup to consider new Greece bailout request
Comments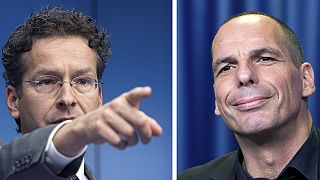 The Greek request on Tuesday for a new bailout from the eurozone took the Eurogroup by surprise.
The situation in Greece - in the Greek economy, in the Greek banks - has deteriorated even more unfortunately, so it's a very difficult path to consider
A planned conference call was put back from Wednesday morning till late afternoon.
The Eurogroup will consider Athens' request for a new bailout of 29.1 billion euros from the eurozone's 500 billion euro rescue fund known as the European Stability Mechanism (ESM).
Some eurozone finance ministers are thought to be hostile to agreeing a new bailout when Greece could not accept the terms of the last offer.
The head of the Eurogroup Jeroen Dijsselbloem said Greece must change its stance towards its creditors before eurozone partners could make a decision, adding that any new programme may come with even tougher conditions than before.
"Asking for a new programme is always possible. Greece is a member of Eurozone and it's a member of the ESM (European Stability Mechanism) and it can ask for financial support. That is quite a procedure to go through, the institutions will again have to do a lot of work on that and in the meantime, as you know, the situation in Greece, in the Greek economy, in the Greek banks, has deteriorated even more unfortunately, so it's a very difficult path to consider," Dijsselbloem said on Tuesday.
At the request of several ministers today's #eurogroup teleconference will start at 5.30pm #Greece

— Michel Reijns (@MichelReijns) July 1, 2015
The Greek prime minister Alexis Tsipras has asked for a two-year aid programme accompanied by parallel debt restructuring.
But the two sides would have to agree to a set of reforms.
In Germany – whose parliament would have to back such a deal – there is scepticism. "Greece plays poker and asks for help", was the headline in one
newspaper.
But some people in Cologne were favourable.
"I do have sympathy for the Greeks. But not with Mr… the prime minister… what's his name…?" said one woman.
"I'm assuming it will all turn out well. Because they won't let Greece go. They'll still support them with loans via the ECB," a man added.
The European Central Bank's governing council is also meeting on Wednesday to consider granting an emergency loan.
It is thought that without a bailout programme in place the ECB could be forced to take a tougher line
The ECB could increase the amount of collateral required for emergency loans.
The Greek government ordered its banks to close and imposed capital controls after the ECB, which had been steadily increasing its funding as withdrawals from Greek banks soared, froze it on Sunday.