Greece: ECB to cap or cut funding?
Comments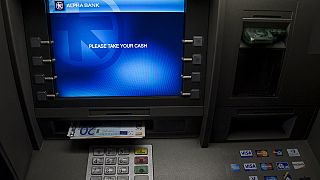 It is being widely reported that the European Central Bank may decide to cut off its emergency lending to Greece. Media reports suggest the Bank will make the decision at an emergency meeting of its governing council on Sunday afternoon.
BREAKING: BBC's peston</a> has heard the ECB will turn off ELA funding for Greek banks <a href="http://t.co/RXwsd4WJdc">http://t.co/RXwsd4WJdc</a> capital controls now imminent?</p>&mdash; Open Europe (OpenEurope) 28 Juin 2015
The news will add to the already deep anxiety in Greece. The country's banks depend on the ECB's Emergency Liquidity Assistance to function. Observers say if the emergency funding is cut off, banks may be closed in Greece on Monday.
Capital controls may then have to be brought in. More than a third of ATMs reportedly ran out of money on Saturday.
The Eurogroup refused to extend Greece's next bailout beyond Tuesday. They blamed Greek Prime Minister Alex Tsipras' call for a referendum on the conditions of the deal. It will be held on July 5. Without more funds, Greece will default on a 1.6 billion euro loan repayment owed to its international creditors on Tuesday.