Final Greek debt plan to go before eurozone finance ministers
Comments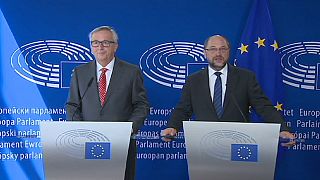 A final proposal by Greece's international creditors is to be put to eurozone finance ministers, with time fast running out to avert a debt default.
As talks resumed in Brussels after breaking up in failure last night, sources said that still no agreement had been reached.
Speaking this lunchtime ahead of an EU summit, the President of the European Parliament Martin Schulz said he would remain optimistic "till the last second".
This despite the fact that Athens had reportedly missed an 11am deadline to come up with a workable economic reform plan.
Greece's lenders set the deadline to unlock new funding and avert a default next Tuesday.
There is said to be exasperation over Athens' refusal to compromise on matters such as pensions, labour markets, wages and tax.