Eurozone Greek debt talks suspended till weekend
Comments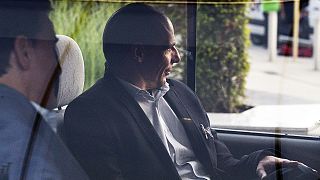 A final proposal by Greece's international creditors has been put to eurozone finance ministers, with time fast running out to reach agreement and avert a debt default.
The eurogroup's meeting on Thursday afternoon has been suspended and ministers are due to reconvene on Saturday.
Next #Eurogroup for #Greece on Saturday morning acc to #EU source

— EfiKoutsokosta (@Efkouts) 25 Juin 2015
Earlier talks between Greek Prime Minister Alexis Tsipras and the country's international lenders ended with sources saying that still no agreement had been reached.
Athens missed a mid-morning deadline to propose a reform plan acceptable to lenders. Greece's lenders set the deadline to unlock new funding and avert a default next Tuesday.
Speaking on Thursday lunchtime ahead of a summit of EU leaders, the President of the European Parliament Martin Schulz said he would remain optimistic "until the last second".
Tsipras echoed those words on Thursday afternoon as he arrived for the summit, telling reporters he was "confident" a compromise deal could be reached.
However, there is said to be exasperation over Athens' refusal to compromise on matters such as pensions, labour markets, wages and tax.
Sources close to the talks said there were big gaps between Greece and the International Monetary Fund, European Central Bank and the European Commission.
#Greece: work is underway; can still take many hours. But I have a hunch that unlike in Sophocles' tragedies this story will have happy end.

— Donald Tusk (@eucopresident) 25 Juin 2015
Greek ministers have said they intend to stick to their own proposals, based largely on increases in tax and social contributions. Athens believes it has already compromised on its "red lines" on taxes and pensions – with officials effectively accusing the lenders of moving the goalposts.
The latest Greek proposals submitted earlier this week are believed to have included many of the creditors' demands – but are thought to have placed too much emphasis on raising taxes rather than cutting spending, to appease lenders.
Athens has not managed to get what it wants: proposals on the restructuring of its debt. Eurozone governments have said they are not prepared to discuss this until Greece implements reforms.
The anti-creditor rhetoric from senior Greek figures in the hard-left Syriza administration is as strong as ever. The party's parliamentary spokesman described lenders' demands as "annihilating measures" showing that "the blackmail against Greece is reaching a climax".
Greece must repay an IMF loan of 1.6 billion euros by next Tuesday, and is trying to secure a last bailout instalment of 7.2 billion euros.