Greece's Economy Minister confident of a deal
Comments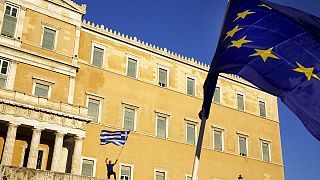 Edging back from the abyss, Athens could be on the brink of a deal with eurozone leaders.
The government of Alexis Tsipras believes proposals which include concessions on higher taxes and welfare charges will lead to an agreement.
Greek Economy Minister Giorgos Stathakis told euronews that they were "now in a position to say that we have a deal that will allow Greek economy to return soon to growth rates."
When asked by euronews reporter Stamatis Giannisis whether SYRIZA'S hardline left will accept that deal Stathakis replied:
"This agreement has all the right features in order to be accepted by the majority that supports this government in parliament."
For some, the anti-austerity pledges which brought victory for Syriza earlier this year appear to be falling between the cracks, as this political analyst at 'Ta Nea' newspaper Giorgos Papachristos points out.
"This deal goes in totally different direction to SYRIZA's pre – election manifesto, Mr. Tsipras will have serious trouble getting this deal accepted by many of his own deputies".
If Tsipras fails to win backing for a deal he could be forced into calling a snap election or a referendum which would further prolong the uncertainty, so he faces a delicate balancing act as euronews reporter in Athens Stamatis Giannisis explains:
"Even if the Greek government finally strikes the much needed deal with the country's creditors, Mr. Tsipras will still have to convince many of his own MP's in order to get the agreement through Greece's parliament, and he may even need the support of some of the opposition parties in order to win the day."