Greece set to send reforms to euro zone
Comments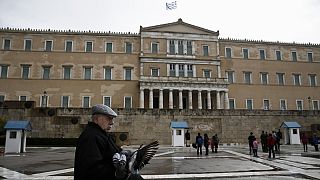 Greece will deliver its latest economic reform plans to eurozone officials on Tuesday morning, after delaying their release by a day.
The new proposals were promised as a condition for the EU giving Athens a four month extension to its debt bailout.
The details are due to include a promise to clampdown more heavily on tax evasion but will also include plans to spend 1.8 billion euros on poverty relief.
Ultimately Greece wants to ease the terms of its 240 billion euro bailout, which is says are too harsh.
Many Greeks are angry at Germany, which is the biggest contributor to the bailout funds. Berlin has said any new spending must be offset by higher taxes or other cuts.
"Germany has tried every which way to enforce its beliefs and its hegemony over Europe. Its first experiment is Greece, we are its guinea pigs," said one Athens inhabitant.
Another local resident said: "It's not fair that Germany has made so much money from the European Union, that it is the only economy that has fared so well, and right now it is being so harsh."
An estimated 3 billion euros left Greek bank accounts last week as critics warn that Athens is only buying time and will likely need a third bailout by the summer.
Having bowed to euro zone demands, new Greek prime minister Alexis Tsipras already faces dissent within his own party. One of his Euro MPs Manolis Glezos has accused him of failing to fulfill election campaign promises, made just a few weeks ago.