Greek government submits list of reforms to Brussels
Comments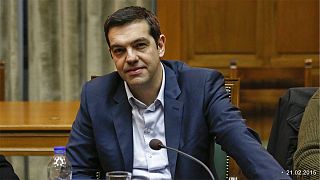 He has in his own words, "won a battle, not the war." Now Greek Prime Minister Alexis Tspiras must wait for the big guns of Brussels to react to his list of reforms.
The government has already indicated there will be measures to tackle tax evasion and to streamline the civil service. Brussels must see the complete list by Monday evening.
A German newspaper has reported Athens will seek to raise 2.5 billion euros from the fortunes of rich Greeks, 2.5 billion from back taxes and 2.3 billion from a crackdown on tobacco and petrol smuggling.
Discussions on the proposed measures will get underway on Tuesday with the Eurogroup of eurozone finance ministers.
"I feel optimistic, even though I was not a supporter of this government- I was with the others – but now I am with them. If they succeed, I will back them," said Anna, a pensioner living in the Greek capital.
Athens said its aim is for the list of reforms to be accepted by their lenders in a bid to receive the four month extension to its bailout package. The deal is widely seen as a major climbdown for Prime Minister Alexis Tspiras who won power vowing to reverse budget cuts.