Lithuania counts down to eurozone membership
Comments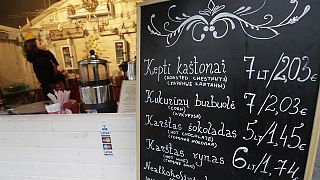 Lithuania is on the final countdown to joining the euro.
On January 1, 2015, the country will become the 19th member of the eurozone. The move comes ten years after Lithuania joined the European Union.
People have been queuing at banks nationwide to dispose of the current currency, the litas.
Government officials have praised the benefits of the common currency.
Prime Minister Algirdas Butkevicius has labelled the move one of the main achievements of his centre-left governing party in the past two years.
"I think we have done it responsibly as I do not know any other country where public trust in the euro has reached 63 percent", he said. "It makes me feel positive and I look forward to exiting the mechanism by which litas was pegged to the euro."
Finance Minister Rimantas Sadzius highlighted the boost to investment that lower borrowing costs could provide.
"It is cheaper credits, cheaper investment as risk of currency devaluation is eliminated and, in general, it is more of the cheaper money", he announced.
The government considers the switchover a political and geopolitical priority. Russia's move into Ukraine has awoken fears the Baltic States could be next.
Lithuania becomes the third and last Baltic country to join the euro, marking a new shift away from Moscow.
The switch coincides with steps towards greater energy independence and requests for more NATO troops in Lithuania.