Putin upbeat on Russian economy but doesn't say how or when it will recover
Comments
By
Euronews
with
REUTERS, EURONEWS/FXPRO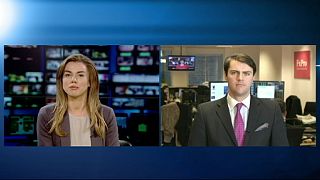 Russia's economic problems drew a slew of questions at President Vladimir Putin's end-of-year news conference.
There are questions to both the government and the central bank about the timeliness and quality of the decisions that have been taken
Blaming external factors for the rouble's dramatic slide this year he tried to cool worries of a full-blown financial crisis taking hold, predicted the economy would inevitably rebound and spoke only in vague terms about how the Kremlin might have to cut government spending.
His comments on the central bank's response were lukewarm at best: "I believe that the central bank and the government are taking the appropriate measures to deal with the current situation. There are questions to both the government and the central bank about the timeliness and quality of the decisions that have been taken, but overall their actions are both suitable and correct."
The implication was that the central bank should have taken quicker and more decisive action in response to low oil prices, Western sanctions over Ukraine and global economic problems.
The rouble has almost halved in value against the dollar this year and continued to fall as Putin spoke.
He still has wide support among ordinary Russians, but he admitted the current problems could last for another two years.
Critics of his handling of the economy say surging prices because of the rouble's weakness, and a slide towards recession, could erode faith in Putin's ability to provide financial stability.
For more insight we spoke to Angus Campbell, Senior Analyst for FxPro.
Oleksandra Vakulina, euronews: "Angus, we were all watching closely Vladimir Putin's annual news conference. Let's focus on some economic highlights.
"First of all, the Russian president said: 'The current economic situation is caused mainly by external factors'. Is that the case or are there internal factors as well? And are these temporary problems, or are we speaking about structural weakness in Russia's economy?"
Angus Campbell: "Well, I think it's a combination of both: external and internal. Of course the major external factor is the price of oil that has nearly halved. This has had a huge effect on the Russian economy. This is why investors are nervous about investing in Russia.
"There are also internal factors as well. The effect of the plummeting currency value is having an inflationary effect on prices in Russia. And next year almost certainly you will see the price of various products, – electronic goods for example, and other things – going much, much higher."
euronews: "Putin said: "Under the most unfavourable external economic scenario, this situation may go on for about two years." Angus, how bad could it get before its starts getting better?"
Angus Campbell: "If we see a degree of calm and no further selling pressure in crude and the rouble, then it may be less than two years. It could it quite a bit quicker for Russia to rebound.
"The worst case scenario is you could see runs on banks in Russia and that will only come if the rouble weakens even further, and it is only likely to weaken further if maybe further sanctions are imposed on Russia, or certainly if the price of oil weakens further."