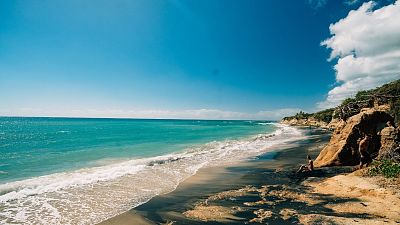 -
From tomorrow, February 2, vaccinated travellers from the US will only need to show proof of vaccintion on arrival in Puerto Rico. The requirement for a negative Covid test has been dropped.
Unvaccinated travellers will still be required present a negative Covid test result (PCR or antigen are accepted) taken within 48 hours of travel.
Unvaccinated visitors who can not show a negative test upon entry will be required to take a test within 48 hours of arrival and if they test positive, quarantine for 10 days. Breaking these rules will result in fines.
Restrictions are also loosening for facilities within the country. From tomorrow, restaurants can operate at 75% capacity indoors and at full capacity for outdoor seating. Bars will still need to operate at 50% capacity.
With nearly 300 beaches and 270 miles of Caribbean coastline, Puerto Rico is the perfect destination for some winter sun.
The award-winning beach: Flamenco Beach, Culebra
Consistently ranked as one of the world's best beaches, Flamenco Beach was recently named in the top 10 of Tripadvisor's 'best beaches in the Caribbean for 2021.'
Located on Culebra Island, just off the coast of Puerto Rico, the beacj is almost 2km long and is framed by majestic hills and tropical palm trees.
Known for its crystal clear and calm turquoise waters, Flamenco Beach is a haven for snorkelling, swimming and sunbathing.
The best beach for black sand: Black Sand Beach, Vieques
Black Sand Beach is one of Puerto Rico's rarest and most dramatic beaches, ideal for travellers looking to explore a hidden Caribbean gem.
Set against a rugged shoreline, Black Sand Beach is located on the south side of Vieques Island, an enchanting islet off the coast of mainland Puerto Rico. It is home to the world's brightest bioluminescent bay, a pristine wildlife refuge and a plethora of secret seaside escapes.
After following a short coastal trail, travellers will be rewarded with stunning scenery and shifting volcanic sand at this secluded spot.
The beach for surfers: Domes Beach, Rincón
On the northwest tip of Puerto Rico, Domes Beach is a year-round surfer's paradise. Home to some of the best breaks on the island, the beach is a hotspot for various surf competitions, including the Corona Pro Surf.
Surrounded by lush vegetation, this beach is best known for whale watching during winter. Migrating humpback whales pass by Rincón from January to March and can be viewed from the historic Punta Higüero lighthouse - or from the surf, as the locals do.
The winter months are also where you'll catch the biggest waves and this is the best spot from which to experience a spectacular sunrise surf.
The Instagram beach: Mar Chiquita, Manatí
Mar Chiquita is one of the most popular natural pools on the north coast of Puerto Rico. It is a picture perfect spot with glistening azure waters. Mar Chiquita translates to Little Sea, an apt description of the cove protected from the Atlantic sea by two limestone outcroppings that shelter the beautiful beach.
A firm favourite on the island, food trucks serve beachgoers traditional Puerto Rican fritters and refreshing drinks on the weekends.
Visit the Discover Puerto Rico for more information on visiting Puerto Rico.