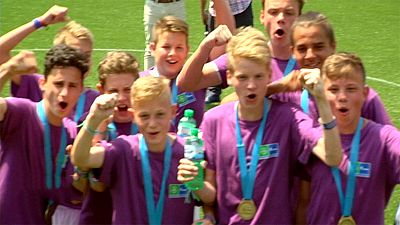 Last weekend, Milan turned into the football capital of the world. In addition to the Champions League final, the Italian city hosted the 4th edition of ''Football For Friendship'', the international children's social programme organized by Gazprom.
It's a programme that promotes the essential values embodied by football, such as respect for other cultures and nationalities, equality and a healthy lifestyle through the love of sport.
Thirty One teams of young hopefuls – between 12 and 14 years old – from Europe, Asia, South America and Africa took part to in the Street Soccer tournament.
Among them, and for the very first time, was the Al-Wahda team, from Damascus, Syria. An unmissable occasion for these kids, who, for a few days at least, could leave behind their war-torn lives.
Ziad Shabo who is the coach of the Al-Wahda youth team said: "Syrian people like friendship, like peace. And I told you, it's a sweet dream for my children to see other children from Brazil, from France, from Italy, from all over the world. And they see them, they make relationships with them. We are still alive, we still stand up and we like peace, we like friendship, with all the world".
Getting to Milan was far from easy for the young Syrian team.
They made the potentially dangerous bus trip to the border and across to Lebanon, where they were finally able to take a plane bound for Italy. A long trip, but a worth while one.
Football For Friendship is not only the opportunity to play football, but also to discover other cultures and to broaden ones horizons. It's also a chance to meet representatives from the football world, such as Franz Beckenbauer, the programmes's Global Ambassador.
Beckenbauer said: "It's really important for a small group of Syrians to leave their Country. For one day, not to hear the bombs. To experience what its like to live in a world in peace – as is the case here in Italy. These boys from Syria, who are here now, they won't ever forget this day."
Franz beckenbauer</a> just arrived at the FOOTBALL FOR FRIENDSHIP Forum in <a href="https://twitter.com/hashtag/Milan?src=hash">#Milan</a> <a href="https://twitter.com/hashtag/UCLfinal?src=hash">#UCLfinal</a> <a href="https://twitter.com/hashtag/GAZPROM?src=hash">#GAZPROM</a> <a href="https://twitter.com/Football4F">Football4F#F4Fpic.twitter.com/xA1mhlNctY

— Gazprom Football (@GazpromFootball) May 28, 2016
Michel Salgado, the former Real Madrid and Spain international defender, was also present at the event as the UEFA Ambassador at the Forum.
Salgado said: "I think it's a project that brings children together to do something like this, to take children away from their problems. Just like what has happened with the Syrians kids who have a respite from the war in the Middle East. In the end, football is a language that we all speak, that children around the world speak.It's a language that all of society speaks and that unites the world. I think that tournaments like this should happen every day and all over the world, to help children forget the troubles they're going through".
Against the backdrop of the iconic Sforza Castle, the Slovenians from Maribor celebrated the title of this year's Street Soccer tournament after beating the Hungarians of Debrecen in the final.
On Saturday night the footballing hopefuls were then in seventh heaven as they were invited to attend the Champions League final at the San Siro stadium and what better occasion to fuel a child's dream of becoming football's next superstar.
The Football4F</a> <a href="https://twitter.com/hashtag/Final?src=hash">#Final</a> is on at the <a href="https://twitter.com/hashtag/UEFA?src=hash">#UEFA</a> pitch in <a href="https://twitter.com/hashtag/Milan?src=hash">#Milan</a>! <a href="https://twitter.com/hashtag/Castello?src=hash">#Castello</a> <a href="https://twitter.com/hashtag/UCLfinal?src=hash">#UCLfinal</a> <a href="https://twitter.com/hashtag/UCL?src=hash">#UCL</a> <a href="https://twitter.com/hashtag/F4F?src=hash">#F4F</a> <a href="https://twitter.com/hashtag/Football?src=hash">#Football</a> <a href="https://t.co/vZQSMLiRjV">pic.twitter.com/vZQSMLiRjV</a></p>&mdash; Gazprom Football (GazpromFootball) May 28, 2016