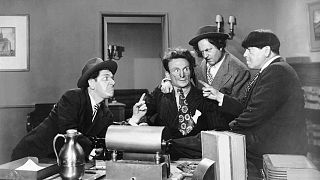 19 January 1940: An American short film takes a bold hit at the growing Nazi regime
It was only 18 minutes long. Barely the length of a song by yesterday's subject - Pink Floyd. Yet, in that brief period of time, a short film managed to etch its way into public consciousness.
The United States in 1940 was oddly ambivalent about the war raging over the Atlantic in Europe. Unwilling to get involved in the fight against Adolf Hitler's expanding Third Reich, antisemitism was rife among US politics thanks to characters like Charles Lindbergh.
While today Hollywood is typified by the right as a place for sanctimonious left-wing artists, in the 30s and 40s, the Hays Code prohibited films with political and satirical messages at all. Senators Burton Wheeler and Gerald Nye objected to any film with anti-Nazi messages for fear it would stoke public interest in joining the war.
Luckily for vaudeville act The Three Stooges, made up of Jewish Americans Moe Howard, Larry Fine and Curly Howard, short films were under less attention from the Hays code.
With that in mind, they went ahead and wrote 'You Nazty Spy!'. Released on this day in 1940, it satirised the Nazis while showing audiences the true threat of the regime. It's that rare example of a truly politically influential piece of art and came nine months before the release of a similar feature, Charlie Chaplin's 'The Great Dictator'.
It also came with the legendary title card: "Any resemblance between the characters in this picture and any persons, living or dead, is a miracle."
A Beatles track and a murder trial
On this day in 1971, the Beatles song 'Helter Skelter' was played at the trial of Charles Manson for his involvement in the Tate-LaBianca murders.
One of the most heinous moments in Hollywood history, the Manson Family cult murdered six people in August 1969, including the pregnant Sharon Tate.
During the trial, the Beatles song featured as a key element in understanding Manson's motivation. He claimed that the 1968 song 'Helter Skelter' included allusions to an upcoming race war. 
Manson seemingly interpreted the lyrics and gained his own paranoid delusions around them. Ever since, the song has been linked to the tragic case and other Beatles songs have had conspiracies attached to them.
A Norwegian classic debuts
On 19 January 1893, Norwegian playwright Henrik Ibsen debuts a new masterpiece, 'The Master Builder'. Alongside 'Peer Gynt', 'A Doll's House' and 'Hedder Gabbler', it was one of the last of his incredibly significant oeuvre.
Following an architect at the height of his career, it's one of the most revealing works by the master, as well as inspiring the mythos behind the plot of the excellent 'The LEGO Movie'.