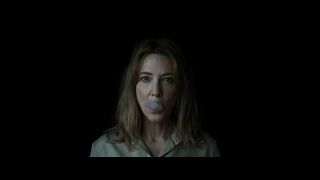 Freshly-honoured Golden Globe winner Cate Blanchett walked the red carpet for Tár in London on Wednesday, a day after being named best actress in a drama for her performance in the film.
"Oh, it's fantastic. It's really lovely," Blanchett said of her win, going on to credit her director Todd Field for putting her in a position to be considered, and explaining why she wasn't at the Globes awards ceremony Tuesday.
"We were here obviously talking to the European press, and I'm here for the premiere tonight, so you can't be everywhere, you know, at the same time. But it's wonderful."
The star seemed surprised that it was her fourth Golden Globe.
"Is it? My fourth, Oh! Well, okay, great. That's nice," Blanchett laughed. 
"There's been so many remarkable performances by women this year and amazing films made by women about a myriad of things. And I don't know how you compare them, you know. But it's always lovely when you, you know, when you take a risk and it connects with an audience."
Blanchett is considered possibly the stiffest competition at the upcoming Academy Awards for fellow Globe winner Michelle Yeoh, named best actress in a comedy or musical Tuesday for Everything Everywhere All at Once.
Blanchett was also nominated Wednesday for a Screen Actors Guild award for Tár, for best performance by a female actor in a leading role – alongside Yeoh, Viola Davis (The Woman King), Ana de Armas (Blonde) and Danielle Deadwyler (Till).
Blanchett's previous Golden Globes were best actress in a drama for Elizabeth in 1999, Blue Jasmine in 2014, as well as best supporting actress in a motion picture for I'm Not There in 2008.
An Oscar win would mark her third following her 2005 best supporting actress win for The Aviator and 2014 best actress honour for Blue Jasmine.
Oscar contender
Set in the world of classical music, fictional story Tár follows Blanchett as Lydia Tár, who breaks the glass ceiling as the first female conductor of a major German orchestra but eventually falls from grace.
The Oscar-nominated-filmmaker behind Little Children and In the Bedroom, Field recalled his nerves as he waited to find out Blanchett's response to his screenplay.
"I lit candles and, you know, I became devout in every possible religion waiting for her to answer," he admitted.
Field's first film in 16 years is a portrait of power and art, which his cast hopes will prompt discussion on a host of hot-button issues like so-called cancel culture, identity politics and #MeToo.
Cancel culture
"It's about cancel culture, isn't it, a part of it," said actor Allan Corduner. "So you should not be able to cancel a whole, a person's whole body of work, just because they've done it, no matter what they've done their work still should remain."
Sophie Kauer, who is studying classical cello performance at the Norwegian Academy of Music, makes her motion picture debut to play a musician under Tár's thumb.
She described the myriad of acting techniques she learned from Blanchett on set.
"All sorts of things from, you know, very small things to do with how to act differently based on how big the frame is to, down to very like small things like, you know, she taught me so much, a lot of stuff about how to get into character and all sort of things like that," said Kauer.
"I have learned that you can be a genius and very nice and respectful to the others," smiled Noemie Merlant. "So she's very different than Lydia Tár."
Tár is released in the UK on Friday 13 January. Check out the video above for footage of the premiere.