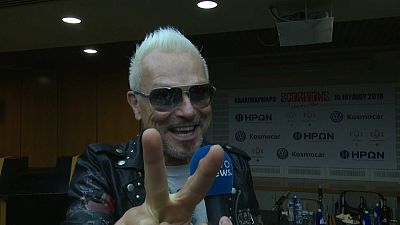 Almost 20 years after their historic appearance with the Berlin Philharmonic, the Scorpions are reprising the event with the Athens State Orchestra.
The band's founder Rudolf Schenker spoke exclusively to Euronews.
"It's a very good way to bring the young kids into the classical music and of course the older ones, who come because of the classical music, (will) see the Scorpions and enjoy a rock show," he said.
Famous throughout Europe for their 'Wind of Change' anthem, Schenker believes it's only a matter of time before that spirit returns.
"When the Wind of Change was written we were a part of it. We were a part of the most peaceful revolution on Earth. In this case we have to go one step backwards for a change. We want to wake up the people and say 'look be careful, now we are going one step backwards. Don't fall down, it's only one step backwards but then we go forward again'.''
Their concert, at the Panathenaic Stadium in Athens on July 16th, is being billed as a "once in a lifetime" event.