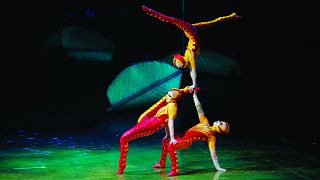 Copyright

Benoit Fontaine © 2009 Cirque du Soleil Inc.
The Cirque du Soleil show 'OVO' an Insect extravaganza - has had its London premier at the Royal Albert Hall.
"Ovo" which means egg in Portuguese, is about the day in the life of a community of 17 insects and how they cope with the arrival of a mysterious egg with a foreigner inside.
Described as 'a colourful carnival of crazy crickets, amazing ants and flexible fleas, OVO uncovers the natural world at our feet. Rush headlong into an ecosystem teeming with life, where insects work, eat, crawl, flutter, play, fight and love.'
As part of the show, there is a 14-metre high flying trapeze act, which is described as the biggest of its kind.
The show, which features 50 performers from 21 countries including Belarus, Ireland, Russia, Ukraine, Colombia, Brazil and South Korea, first premiered in Montreal in 2009 and has been seen by over five million people.
''Ovo is a little different from the other Cirque shows in that it's more vibrant, it's more colourful, it's more playful, it's more silly," said Cirque du Soleil, artistic director, Tim Bennett.
"Many of the Cirque shows are very mysterious and dark which is kind of their appeal. This one this is very different."
The Canadian entertainment company Cirque du Soleil is the largest theatrical producer in the world.
It currently has 21 different productions either in residence - with seven in Las Vegas alone - or touring theaters around the globe.
Ovo can be seen at the Royal Albert Hall until 4th March.