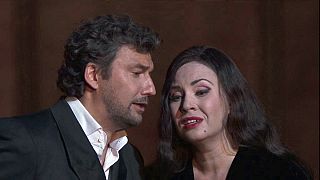 Opera superstars Sonya Yoncheva and Jonas Kaufmann are opening the season at Paris' Opéra Bastille with Verdi's 'Don Carlos'.
This sober production of 'Don Carlos' is staged by acclaimed Polish director Krzysztof Warlikowski. He chose to focus on the personal drama of the characters struggling with the tumult and violence of power.
"It's a very plain production," says Yoncheva. "We are faithful to the text, faithful to the story and totally faithful to the characters' psychological state."
"For us who are taking on the roles, that approach was absolutely necessary because it helped us strip naked without limits and really be ourselves."
Jonas Kaufmann has taken on the role of Don Carlos many times in Italian, but it's the first time he's doing it in the original version.
"Yes, I'm playing a great hero, again. Of course, I have often sung Don Carlos, it's not the first time, but it's the first time I'm doing it in French, and that's a game-changer."
"It is incredibly difficult for me, and I have been talking with my colleagues who agree that it's so much more difficult to perform this piece in French. Not because you have to learn it in French, but because the rhythm is different. There are added musical elements and, especially for me as a tenor, almost every time there is high note, the word ends with an -E or a -U, which are incredibly uncomfortable vowels to sing. It makes it really difficult to sing this work."
On Krzysztof Warlikowski interpretation of the opera, Kaufmann told Euronews: "(It) has helped me uncover new aspects of this character, this crazy Don Carlos character."
An acclaimed soprano highly in demand on the world stage, Sonya Yoncheva says: "Verdi came from the theatre. He did a great job integrating theatre into opera and into music. For us singers, it's not only a pleasure singing his work but also interpreting it. For me, as an artist, it's truly a privilege to sing Verdi today."
'Don Carlos' runs at the Opéra Bastille until November 11th.