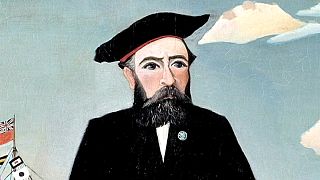 Jan Fabre. Spiritual Guards
Where: Florence, Italy – Palazzo Vecchio and Piazza della Signoria
When: Until October 2, 2016
"Spiritual Guards" is an exhibition in Florence by Belgian contemporary and provocative artist Jan Fabre. It features roughly 100 of his works dating from 1978 to 2016, including bronze and wax sculptures, and two monumental sculptures on Piazza della Signoria. Palazzo Vecchio is also showcasing a series of Fabre's sculptures coated in beetle shells. The "guards" in the title of the exhibition in fact refer to Fabre's army of bronze beetles.
We saw some strange things in #Italy. This is Jan Fabre's Bronze Turtle in the Piazza Della Signoria, Florence. pic.twitter.com/GyxFZazKHy

— Rob Zeigler (@RobZeigler) June 11, 2016
jan fabre unfolds spiritual guards across a piazza, palazzo and fort in florence https://t.co/y24ZcMfNo9pic.twitter.com/Soqnda5KUU

— Hotel Savoy (@SavoyFirenze) June 9, 2016
Undressed: A Brief History of Underwear'
Where: London, England – Victoria and Albert Museum
When: Until March 12, 2017
From the 18th century to today, from the functional to the fetishistic – it's all on display at London's Victoria and Albert museum. 'Undressed: A Brief History of Underwear' travels back in time with waist-constricting corsets, including one worn by burlesque artist Dita Von Teese.
Kate Moss's sheer slip and Dita Von Teese's corset among underwear exhibition: Undressed: The Brief History O… https://t.co/IpH4lGerHm

— Womens Health Issues (@health_issues) April 12, 2016
TomsKnittedTie</a> <a href="https://twitter.com/zimtmaedchen">zimtmaedchensilmjones</a> Undressed at V&A <a href="https://t.co/oWVNAJuAY4">https://t.co/oWVNAJuAY4</a> <a href="https://t.co/g4SQAMQ17Y">pic.twitter.com/g4SQAMQ17Y</a></p>&mdash; Helena Grey (ShiningGrey) June 23, 2016
The Douanier Rousseau. Archaic Candour
Where: Paris, France – Musée d'Orsay
When: Until July 17, 2016
A retrospective at the Musée d'Orsay in Paris explores the work and legacy of painter Henri Rousseau. Known as "Le Douanier" for his day job as a toll collector, he was often dismissed as a Sunday painter. But his influence on European modernism is now indisputable.
The Archaic Candour of Henri Rousseau at the Musée d'Orsay | BLOUINARTINFOhttps://t.co/tohX7h2xE8 a fascinating but uneven show

— Richard Fitzwilliams (@RFitzwilliams) April 24, 2016
Moscow International Film Festival
Where: Moscow, Russia – Multiplex Cinema October
When: June 23-30, 2016
Thirteen movies are in official competition at this year's 38th edition of the Moscow International Film Festival. The St George awards will be handed out on June 30th, when the festival will close with a screening of Woody Allen's Café Society. The Festival is one of the oldest in the world and was held for the first time in 1935 – the chairman of the jury at the time was Sergei Eisenstein.
Αρχίζει σήμερα το 38ο Διεθνές Φεστιβάλ Κινηματογράφου της Μόσχας https://t.co/G4i97ega8j#MoscowFilmFestivalpic.twitter.com/6Wd0iXhsXu

— ΑΠΕ-ΜΠΕ (@amna_news) June 23, 2016