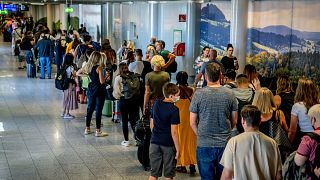 -
Copyright

AP Photo/Michael Probst
This summer is set to be the busiest travel season since 2019.
For airlines and airports, passenger numbers are creeping back up close to pre-pandemic levels. Despite the cost of living crisis, Europeans are still booking breaks in the sun and many are hoping for a much smoother experience than they had in 2022.
There's a good chance, however, that the problems passengers faced last summer could follow them into 2023.
Why was 2022 a chaotic year for travel?
After travel restrictions ended in 2022, hundreds of Europeans jumped at the chance to take their first holiday in two years. But the aviation industry wasn't necessarily prepared for the boom in travellers. It left airports and airlines overwhelmed.
Half of all flights in Europe were delayed last summer and nearly 2,000 were cancelled every day, according to European air traffic management body Eurocontrol.
Some airports and airlines coped better than others, but for many passengers, travelling through Europe was not a positive experience.
The year got off to a promising start but things rapidly descended into chaos as the peak travel season began. In July, Eurocontrol says the number of flights departing on time dropped below 50 per cent then remained between 50 and 60 per cent for most of the summer.
The main cause of the chaos was staff shortages. Aviation workers were made redundant during the pandemic and hadn't been replaced. Queues built up at airport security, check in and passport control while luggage piled up with no one to handle it.
The industry says it is prepared for this summer but the number of travellers is set to surge once again.
What will air travel be like in 2023?
"Getting closer to pre-pandemic traffic levels will not be easy against a backdrop of supply chain issues, possible industrial action, airspace unavailability, sector bottlenecks, rising demand and system changes," according to Eurocontrol.
The air traffic management body says that 2023 is set to be a "hugely challenging" year and will require a lot of effort to meet demand and keep delays down.
It is a sentiment that was echoed by Ryanair boss Michael O'Leary at the start of the year. He told a press conference that the aviation industry needed to "pull out all the stops" against a litany of potential issues this coming summer.
He reckons that this summer will once again be characterised by delays and cancellations.
Airports are trying to combat issues of understaffing with measures like passenger caps. These restrictions hope to reduce the risk of lengthy queues at security, check-in and passport control.
Schiphol Airport in Amsterdam made headlines last year for all the wrong reasons with hours-long queues and cancelled flights. It imposed a passenger cap in an attempt to ease the chaos.
Now it has extended this cap through April and May during peak morning hours. From 6 am to 1 pm, airlines will need to book five per cent fewer seats or around 5,000 fewer passengers a day.
Heathrow Airport has also asked airlines to stop adding extra flights to their schedules during the peak season to avoid chaos this summer. It saw more growth than any other airport in the world following the return of travel but warned that this was "challenging operationally".
The airport's chief executive John Holland-Kay has said he anticipates it to be busier than 2019 on some days this summer. But, after a recent recruitment drive, he expects things to run smoothly.
Will travel strikes be a problem in 2023?
This year, French Air Traffic Control (ATC) strikes threaten to cause chaos. Already in 2023, industrial action on 15 February led to hundreds of grounded flights and delayed many more.
O'Leary warned that further walkouts risk "shutting everyone down" if the current dispute over pensions continues into the summer.
This is because ATC strikes don't just have an impact on flights in France but any routes that pass within French airspace. That includes a large number of routes across Europe.
And these aren't the only strikes taking place. Across Europe, airport and airline staff are locked into disputes over pay and working conditions as the cost of living crisis bites.
It isn't unusual for these strikes to take place at the most popular time to travel as this is when they are most disruptive.
How is the war in Ukraine affecting air travel?
The airspace over Russia and Ukraine is still closed due to the war with no foreseeable end to restrictions in sight. Only around 80 per cent of Europe's usual airspace is available meaning that the skies are more congested as flights avoid the restricted regions.
O'Leary said that "the real pressure will be on Germany". In January, he explained that much of southern Poland's airspace was closed due to Nato exercises. Every aircraft travelling from north to south, from the Baltic states to Greece and Italy, has to fly around Germany.
Long-haul routes to Asia also have to fly down, around Germany and across Romania because they can't fly over Russia.
"So there is real pressure on Germany, northern Italy, those kinds of corridors there and that's going to be a challenge," he said.
It could mean ticket price increases for travellers as the cost of avoiding closed airspace continues to pile up for airlines and longer flight times on some journeys.