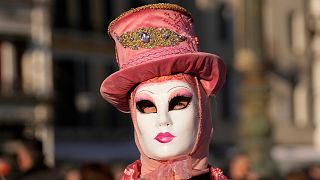 -
Copyright

Antonio Calanni / AP Photo
Every year in February, the streets, squares and canals of Venice become the setting for one of the world's most magnificent carnivals.
During Carnevale, as it is known in Italian, revellers parade in lavish historic costumes, bakeries churn out vast supplies of sumptuous sweets, and colourful confetti carpets the pavements.
As chaotic as it is spectacular, Venice Carnival can be overwhelming for the uninitiated. Here's what to wear, see, eat and do during the festival.
What is Venice Carnival?
Carnevale originated in the late 14th century as a period of unrestrained indulgence, frivolity and hedonism before the sober 40 days of Lent began.
Social roles - and sometimes genders - were subverted, and masks aided an atmosphere of revelry, liberty and even deception.
The word 'carnevale' comes from the Latin 'carnem levare' - to remove meat - referring to the frugality of Lent. As such, Carnival was also a moment to eat and drink with abandon, resulting in the creation of several indulgent festive foods.
The licence and pleasure, encouraged by anonymous masking, led the event to be outlawed in 1797. It only returned in 1979 when the Italian government sought to revive Venice's culture and history.
When is Venice Carnival?
Carnival celebrations last for just over a fortnight and take place in various venues and squares in the city. This year, the festival kicked off on 4th February and will run until 21st February.
The final six days of Carnival, from the 16th to Shrove Tuesday on the 21st, are the culmination of the festivities and see millions of visitors flocking to Venice each year.
What to eat at Venice Carnival
As the last opportunity for gluttony, Carnevale is a time for baking rich, sugary foods.
Walk past any bakery and the air is filled with the scent of deep frying 'frittelle', or 'fritole', the queen of Carnival pastries.
These are a kind of ball-shaped doughnut with a crispy exterior and fluffy interior flavoured with raisins or filled with pastry cream.
Some of the best examples can be found at Pasticceria Tonolo, a Venetian institution, elegant Rosa Salva with tables set out in Campo San Giovanni e Paolo or the historic Pasticceria Rizzardini.
Vizio Virtù, an independent chocolatier, makes a delicious version filled with pistachio cream.
Crostoli, also known as galani, are another popular pastry. These thin, deep fried strips of sweet dough are delightfully crumbly and impossible to enjoy without dusting yourself in icing sugar.
What to do at Venice Carnival
Although Venice is known as an expensive destination, many of Carnevale's historic events are free of charge.
The first day of Carnival sees a spectacular night parade down the Grand Canal with light shows and musical performances. The day after, another water cavalcade takes place with traditional Venetian boats accompanying a sinister giant floating rat, known as the Pantegana.
The Carnival Street Show takes place on multiple days throughout the event with street performances in various squares in the centro storico (historic centre) and outlying islands.
The Festa delle Marie began as a bridal parade for the dispensing of dowries and developed into a historic beauty pageant which begins on 11th February. Twelve local women in historic costumes are paraded around the city and the most beautiful Maria is crowned on Shrove Tuesday.
A much anticipated event is the Volo dell'Angelo, or flight of the angel, when a woman in a theatrical costume 'flies' across Piazza San Marco along a cable from the bell tower.
Unfortunately, the traditional ceremony has been cancelled this year due to repair work taking place on the tower.
In between events, the best way to experience Carnival is wandering the streets, admiring the extravagant and ingenious costumes. In Piazza San Marco, you can find many seasoned participants posing for photos.
What to wear at Venice Carnival
It is possible to spend vast sums renting historic Carnival costumes. At ateliers like Sogno Veneziano or Nicolao you can find sumptuous period outfits of velvet, embroidered satin and delicate lace.
For those with a more restrained budget, a handmade mask is the must-have accessory. Mater Domini produces masks from papier-mache or ceramic which are hand painted and decorated with everything from gold leaf to giant feathers.
Ca'Macana is another well-known workshop famous for producing the masks for Stanley Kubrik's film 'Eyes Wide Shut'.
Classic masks include the bauta, covering the entire face and with a protrusion at the base to aid eating and speaking, and the plague doctor with a curved beak that would once have been stuffed with herbs.
Make sure you get yourself a bag of confetti - known as coriandoli in Italian - to toss over unsuspecting victims.
How busy is Venice Carnival?
Already crowded Venice becomes even more packed during Carnival. This year's edition is the first in three years to take place without any pandemic restrictions so visitor numbers are expected to soar.
If you want to avoid the crowds, one of the best ways is to stay in the centro storico or another island so you can wander the streets after dark when the day trippers have departed.
The quieter - and cheaper - zones for accommodation include the Castello and Dorsoduro districts.
If you need a breather, take a vaporetto (water bus) to the quieter islands like Burano or Pellestrina where street performances will also be taking place.