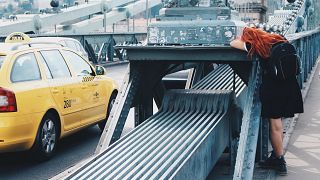 Follower of movement and expression, Imogen Forte (@imogenforte) is this month's European Lens-featured photographer.
Born and raised in busy London, Forte's natural curiosity for the human experience is very present in her work. She likes to document private emotions in public spaces, portraying colourful but honest pictures.
While leafing through Forte's work one is reminded of the thin layer between our inner world and expression: no matter how much makeup or clothing we pile on, we are always there: transparent.
This young photographer has been unveiling the essence of her subjects and dazzling the viewers with her strong visual storytelling for a few years now, winning awards and scholarships along the way. We had the pleasure of speaking with her and finding out more about her work. This was our conversation:
How did your photography journey start?
I cut my teeth as an advertising creative, working as a copywriter and art director. A few years back I fell in love with photography and soon started taking my camera everywhere. After that, it escalated quite quickly. I started getting coverage and clients and then was lucky enough to win the LPA Futures Awards, which looks to recognise and support emerging talent in photography. That gave me the freedom to leave my job and focus on photography full-time which was a dream come true.
What are your travel essentials and what camera do you use?
I like to shoot on film when I can. I've got quite a lot of gear now but when I'm travelling I still just take a trusty old 35mm that I bought second-hand years ago. It hasn't got all the bells and whistles but it's lightweight and durable which makes it ideal for running around and exploring.
What is the one thing you wish you knew when you started taking photos?
I first bought a film camera for a trip to South Africa. It's the most photogenic place on earth and I was going to a festival, an offshoot of Burning Man in the desert, so I knew I'd have to have a camera but didn't think a digital would survive. Unfortunately, I hadn't learnt to load the film properly so none of the 10 rolls of film I took came out!
Thankfully it wasn't enough to make me give up! I still maintain they would have been some of the best photos I'd ever taken so yeah, my advice would be: learn how to load film properly before you start shooting!
How would you describe your style of photography?
Everyday life, beautifully observed- or that's what I aim for anyway! I look for beautiful and moving moments hidden away amongst the chaos of every day. Oh, and colourful: I love colour!
What is your favourite place or thing to photograph?
I love photographing people. I'm interested in noticing and documenting private emotions when they playing out in public spaces.
Favourite European location and why?
That's such a tough question! I just spent a month in Italy on a Magnum Photos scholarship so that was an incredible opportunity to get to know the country better. But I've loved every European country I've been to for a host of different reasons.
What is the most memorable photo you've ever taken?
I think all my most memorable photos are the ones I've taken of my family as they mean the most to me.
Are there any things that you would never want to photograph?
I like trying new stuff so I'd never say never to anything but I'm less interested in still life. I enjoy having to respond quickly to the unexpected, and I enjoy the surprises that occur when I shoot real people in real places.
Follow Forte's work — as well as other European Lens photographers — with Euronews' Instagram account @euronews.tv