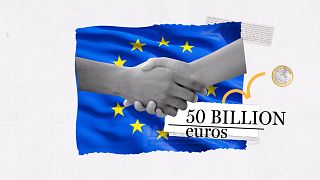 Debt, inflation, wages, and jobs... We know that it's tricky to understand how the economy works. That's why every episode of Real Economy brings you a one-minute Crash Course to bring you quickly up to speed on the big picture. We explain the headline concepts and lay out how public policy is reacting to changing current affairs and economic trends. Watch your one-minute Crash Course in the video above.
Over a year on from Russia's full-scale invasion in February 2022, Ukraine faces a severe humanitarian crisis, only compounded by its faltering economy; last year Ukraine's economy suffered its sharpest downturn in more than 30 years, with a 30.4% drop in GDP.
In February, the EU announced a new €450 million assistance package for 2023, which brings the total financial support to Ukraine from the EU, its Member States and European financial institutions to around €50 billion.
So how is this aid helping Ukraine, and what does it mean for the country's future?
Humanitarian aid
Of the €50 billion of economic support pledged by the EU to Ukraine over the last year, €630 million is humanitarian aid.
In this latest aid package for 2023 announced by the European Commission President in February, €145 million was allocated to the provision of humanitarian assistance, almost a third of the €450 million pledge.
This funding is used to support people in Ukraine, and those who have fled to neighbouring countries, by providing basic essentials like food and water, medical supplies, household items, emergency shelters and cash assistance.
Humanitarian aid from the EU has also funded education in emergencies, and healthcare and psychological support.
Over the past months, the EU set aside the provision of winter shelter facilities and housing as a top priority, given the harsh weather conditions in Ukraine and in its neighbouring countries.
By 2 February, the EU had welcomed around 4 million Ukrainian refugees, while the UN Refugee Agency states that more than 5 million are internally displaced within Ukraine.
Military assistance
Including the new package, the EU has provided €12 billion in military assistance to Ukraine, of which €3.6 billion is being made available under the European Peace Facility (EPF).
The EPF is an off-budget funding mechanism established in March 2021 to preserve peace, prevent conflicts and strengthen international security.
The new fund will cover non-lethal equipment, supplies and services to the Ukrainian soldiers trained by the EU.
Under this package, the EU intends to train a further 15,000 soldiers in 2023, which would double the existing troop-training programme launched in October.
Announcing these measures in Kyiv on the 2 February, President of the European Commission, Ursula von der Leyen said that the EU "will keep turning up the pressure further" on Russia.
Aid to plug Ukraine's funding gap
More than €30 billion of the funding provided can be defined as 'Macro-Financial Assistance': a form of aid extended by the EU to partner countries experiencing a balance of payments crisis.
The aid, which comes in the form of medium to long-term loans or grants, will be used to finance government expenses like pensions, salaries, education and restoring infrastructure.
The EU has also agreed to a loan of 18 billion euros to Ukraine for 2023, which is intended to help plug the government's large financing gap, which the IMF estimates to be above €35 billion.
Support to ease energy crisis
The EU has also pledged to donate equipment to help ease Ukraine's energy crisis, including 35 million LED light bulbs and 5,400 generators, as well as help to repair the power grid, 40% of which has been destroyed by Russian missile strikes.
In Kyiv, von der Leyen set out the EU's longer-term goals of helping Ukraine rebuild a greener energy network, to ensure Ukraine's energy security.
She said: "Renewables will not only bring clean energy; they will also increase Ukraine's energy security. Because they are home-grown, and because a decentralised energy system is plain and simply safer."
Von der Leyen added that the EU would help to provide power supplies to public buildings, like hospitals, schools or fire departments, through solar panels which can be installed on their roofs.
The EU also invited Ukraine to join the Energy Platform for joint purchasing of gas.