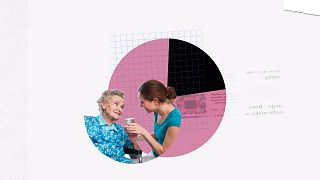 Debt, inflation, wages, and jobs ... We know that it's tricky to understand how the economy works. That's why every episode of Real Economy brings you a one-minute Crash Course to bring you quickly up to speed on the big picture. We explain the headline concepts and lay out how public policy is reacting to changing current affairs and economic trends. Watch your one-minute Crash Course in the video above.
Demand for care in Europe is increasing as the average age of the population rises. As it stands, six million people currently work in the sector, but estimates suggest the bloc will require another 1.6 million care workers by 2050. 
Currently, a significant amount of care is informal and unpaid. 52 million Europeans - family members, friends and neighbours - offer care for people without pay or recognition. Furthermore, around 7.7 million women are currently out of employment because of care responsibilities.
Meanwhile, professional carers, 90% of whom are women, are often undervalued and face poor working conditions. 
Why is long-term care important?
Long-term care enables the elderly, the ill, and those with disabilities to maintain their autonomy and live with dignity. 
The services provided by caregivers help people live as independently and safely as possible when they can no longer carry out everyday activities on their own.
But for many people, these services are unaffordable, unavailable or inaccessible.
What is the EU proposing to improve care?
In her 2021 State of the Union Address, European Commission President Ursula von der Leyen announced a European Care Strategy to support women and men in finding the best care and work-life balance for carers - as subsequently confirmed in the Commission Work Programme 2022.
Presented by the European Commission in September last year, the aims of the European Care Strategy are twofold: to ensure quality, affordable and accessible care services across the European Union, and to improve the situation for both care receivers and the people caring for them, professionally or informally. 
The Commission has recommended that Member States draw up national action plans to tackle gender stereotypes and attract more people through social dialogue, continued education and training. 
The European Commission says that by 2027, a total of €6.7 billion should be invested into healthcare and long-term care in 22 EU member states through the European Social Fund Plus (ESF+).
What could better investment mean for the care sector?
Investing in care is important to attract and retain talent in the care sector, which is often characterised by difficult working conditions and low wages.
Greater investment will also help address labour shortages and fulfil the sector's economic and job creation potential.
Investing in high-quality care also means improving women's participation in the labour market and gender equality, in particular gender pay and pension gaps.