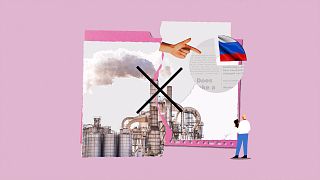 Debt, inflation, wages, and jobs ... We know that it's tricky to understand how the economy works. That's why every episode of Real Economy brings you a one-minute Crash Course to bring you quickly up to speed on the big picture. We explain the headline concepts and lay out how public policy is reacting to changing current affairs and economic trends. Watch your one-minute Crash Course in the video above.
Since the summer of 2021, energy prices have seen unprecedented spikes and volatility across Europe. Global energy market disruption caused by Russia's invasion of Ukraine has put a strain on EU households and the economy. But how has the EU responded to the energy crisis? 
Reducing overall energy demand
In a bid to cut energy overall energy demand across the bloc, the European Commission proposed an emergency intervention in Europe's energy markets to tackle recent price rises. 
This includes exceptional electricity demand reduction measures, to help cut electricity costs for consumers, as well as measures to redistribute the energy sector's surplus revenues to final customers. 
These steps follow previously agreed measures on filling gas storage and reducing gas demand - in what the EU called 'Save gas for a safe winter' - to prepare for supply cuts during winter.
The first goal has been given an unexpected boost by the relatively mild winter period from 2022 into 2023. That means the demand for energy has not been as strong as it could have been during a particularly cold year.
Helping reduce costs for consumers
Price caps, windfall taxes and handouts have helped reduce costs for consumers in Europe.  
Based on the European Commission's Toolbox on Energy Prices published in October 2022, all Member States have taken national budgetary policy measures to soften the blow of energy price hikes on consumers and businesses. 
Since the start of the energy crisis in September 2021, €705.5 billion has been allocated and earmarked across European countries to help protect consumers from rising energy costs, according to EU economic think-tank Bruegel.
These measures help provide income support to households, compensate companies involved in energy-intensive activities and tax windfall profits made by energy companies. 
So as to avoid market distortions, the Commission encouraged Member States to make these measures temporary and targeted to the most vulnerable.
Making plans to avoid relying on Russian gas
Since the start of the energy crisis, Europe has seen a rapid growth in plans for new LNG shipping terminals and gas pipelines, initiatives to accelerate renewable energy projects, and efforts to increase energy efficiency.
To accelerate the clean energy transition, the European Commission is pushing to increase energy efficiency and kick on with the roll-out of renewables, which will reduce the dependency on fossil fuels and therefore Europe's exposure to volatile markets.
In May, the Commission presented the REPowerEU Plan, its response to end the EU's dependence on Russian fossil fuels as soon as possible. A political agreement on REPowerEU was reached by the European Parliament and Council on 14 December 2022. 
This is particularly important because the EU still needs to meet its long-term commitment to be carbon neutral by 2050.
Reforming the EU's electricity market
Last month, the European Commission launched a public consultation on structural reform of the European Union's electricity market.
In the current crisis of high and volatile electricity prices, the Commission says the economic burden is being felt by consumers, and therefore reform is needed to better protect them from major price volatility, and to support access to secure energy from clean sources while making the market more resilient.