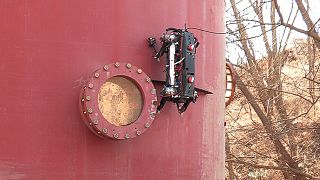 Researchers have developed a quadrupedal robot that can move vertically up and down walls and upside-down across metal ceilings.
Designed by a team at the Korea Advanced Institute of Science & Technology (KAIST), "Marvel," short for Magnetically Adhesive Robot for Versatile and Expeditious Locomotion, can be used on any metallic surface.
On the ground, it weighs only 8 kg, but its weight is up to 54.5 kg in the vertical direction and 45.4 kg in the horizontal direction.
The reason why it doesn't fall off the steel surface is because of its magnetic soles, each of which weighs only 169 g.
Using these soles, it can climb a wall at up to 42 m per minute (mpm), carrying a load of more than 37 kg.
Its soles are made of a permanent magnet (EPM) and a magneto-rheological elastomer (MRE).
An EPM is an electromagnet that you can turn on and off its electromagnetic force very quickly while the MRE used in the soles is urethane rubber mixed with iron particles, making it durable for increased friction.
This allows its magnetic feet to switch on when they touch the surface and switch off as soon as they have to detach, all while maintaining high adhesive power even on uneven surfaces.
Potential applications
To test this, the researchers carried out an experiment on an old outdoor water tank that had also been painted. Marvel climbed the dirty and rusty surface at a speed of 21 mpm, and it jumped over a 5 cm high obstacle protruding from the wall.
In a related experiment, it climbed the ceiling upside down at a speed of 30 mpm.
The research team believes robots like "Marvel" could one day be deployed for dangerous maintenance jobs on large metal structures, such as ships, bridges, transmission towers and storage tanks.
In light of the growing number of industrial accidents caused due to neglience, South Korea amended its Severe Disaster Punishment Act in 2022.
Professor Hae-won Park told the Korean media Financial News that "negligent accidents can be prevented by deploying robots into dangerous work sites. The productivity and efficiency will be increased as well."
The study has been featured on the cover of Science Robotics' December edition.
For more on this story, watch the video in the media player above.