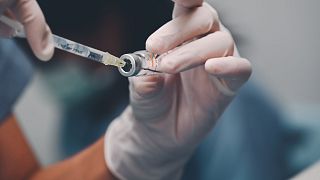 US health authorities are investigating a potential link between Pfizer-BioNtech's updated COVID-19 vaccine and a type of stroke in older adults.
However, the US Centers for Disease Control and Prevention (CDC) said such a link had not been observed in other databases or other countries, and it does not recommend any change to vaccination practices at this time.
The CDC said on Friday that one of its vaccine safety monitoring systems, called the Vaccine Safety Datalink (VSD), had uncovered a possible safety concern in which people aged 65 and older were more likely to have an ischemic stroke 21 days after receiving Pfizer's shot, compared with days 22 to 44.
"Often these safety systems detect signals that could be due to factors other than the vaccine itself," the CDC said in a statement.
An ischemic stroke, also known as brain ischemia, is caused by blockages in arteries that carry blood to the brain.
The CDC and the US Food and Drug Administration (FDA) said they would continue to assess additional data from their various safety monitoring systems, and that the findings would be discussed at a January 26 meeting of FDA vaccine experts.
'Transparency a priority'
The health authorities stated that other large studies and other countries' databases, as well as Pfizer-BioNTech's own databases, had not flagged the safety issue.
"Although the totality of the data currently suggests that it is very unlikely that the signal in VSD represents a true clinical risk, we believe it is important to share this information with the public," the CDC said, adding that "transparency and vaccine safety are top priorities".
Pfizer and BioNTech said in a statement that they have been made aware of limited reports of ischemic strokes in people 65 and older following vaccination with their updated shot, designed to protect against the original strain of coronavirus as well as the Omicron BA.4 and BA.5 subvariants.
"Neither Pfizer and BioNTech nor the CDC or FDA have observed similar findings across numerous other monitoring systems in the US and globally and there is no evidence to conclude that ischemic stroke is associated with the use of the companies' COVID-19 vaccines," the companies added.
This safety concern has not been identified with Moderna's bivalent shot.
The CDC and FDA insisted that "no change in vaccination practice is recommended", continuing to recommend COVID-19 vaccination for everyone over the age of six months.
"Staying up-to-date with vaccines is the most effective tool we have for reducing death, hospitalisation, and severe disease from COVID-19, as has now been demonstrated in multiple studies conducted in the United States and other countries," the health bodies continued.
Euronews Next has contacted the European Medicines Agency for comment.