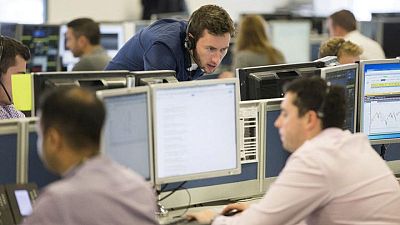 -
By Sinchita Mitra
-British online trading platform IG Group expects annual revenues to "moderately" exceed expectations, with the Ukraine crisis fuelling market volatility, though a forecast for slower growth at its U.S. platform knocked its shares on Wednesday.
Russia's invasion of its neighbour, which Moscow calls a "special military operation," has triggered increased market activity after a relatively dull 2021, when trading eased from the frenzy seen at the onset of the COVID-19 pandemic.
But the CBOE volatility index, also known as Wall Street's fear gauge, rose on March 2 to its highest level since the Russia-Ukraine conflict began on Feb. 24 and market watchers are keeping a close eye on peace talks between the two nations.
In its third quarter ended Feb. 28, London-listed IG recorded an all-time high of 292,200 active clients, up 32% on the year before, and said net trading revenue rose 13.3% to 257 million pounds ($335 million).
Peel Hunt analysts said in a note the consistency of active client numbers at IG gave the brokerage confidence about IG's future revenue.
IG rival TP ICAP also said on Tuesday it was seeing a revival in client activity, adding it had ceased trading activities with internationally sanctioned Russian clients.
IG, which does not have any direct exposure to Russia and Ukraine, did not give details on related trading.
The firm said it expected revenue growth from tastytrade, its U.S. trading platform, to remain below its forecast range of 25%-30% in the year ended May 31, due to less options trading and as a boost from the "meme stock" frenzy last year fades https://www.reuters.com/business/finance/meme-stock-hangover-year-after-gamestop-traders-face-gloomier-markets-2022-01-28.
IG acquired tastytrade in 2021 for $1 billion, as it ventured into the North American markets after retail investors dramatically swayed markets in early 2021 with social media-driven stock trading.
Shares of the British company were down 2% at 767.5 pence by 0858 GMT.
($1 = 0.7660 pounds)