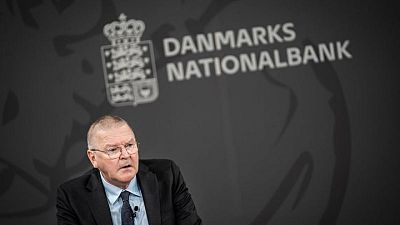 -
COPENHAGEN -The war in Ukraine will significantly impact Denmark's economy and cause higher inflation, the Danish central bank said on Wednesday, after it cut its growth forecast for the year.
The central bank said it now expected the economy to grow 2.1% both this year and the next, down from an earlier prediction of 3.1% growth this year.
The bank "assesses that the war will reduce GDP growth by approximately 1 percentage point and increase inflation by about 2 percentage points this year," governor Lars Rohde said in a statement.
It forecast consumer prices to rise by 4.9% this year, before dropping to 1.4% and 2.2% in 2023 and 2024, respectively.
The central bank had forecast a rapid recovery for the Danish economy this year, but subdued investments and higher price increases due to Russia's invasion of Ukraine will put a dent in that boom, the central bank said.
"Healthy public and private savings balances and very low unemployment give the Danish economy a good starting point for coping with the economic consequences of Russia's invasion of Ukraine," Rohde said.
The central bank said it expected the coming years to be characterized by capacity pressure and low unemployment.