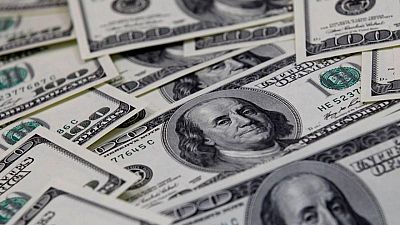 -
LONDON – Ukraine's longer-dated dollar bonds suffered their worst day on record on Wednesday as the standoff between Moscow and Washington over the country showed little signs of abating.
Ukraine's 2040 GDP-linked bond tumbled as much as 12.3 cents to 45.75 cents in the dollar, suffering its worst daily drop since issuance in 2015. Prices slipped to levels last seen in 2017, data from Tradeweb showed.
The 2032 bond dropped nearly 9 cents to fall to a record low of 63.187 cents.
The conflict over Ukraine has ratcheted up sharply since Russian President Vladimir Putin recognised two breakaway regions in Ukraine's east on Monday.
He added on Tuesday he would recognise the entire Donetsk and Luhansk regions, even though only a fraction of that territory is controlled by Russian separatists.
Washington, the UK and Brussels have responded by imposing sanctions on a number of Russian banks, individuals and sovereign debt, pledging there would be more to come.
Russian bonds also suffered, with longer-dated issues down around 7 cents in the dollar at 88.01 cents.
The premium demanded by investors to hold Russian and Ukrainian debt over safe-have U.S. Treasuries also widened sharply to 405 basis points and 1330 bps respectively – both at their widest level since 2015