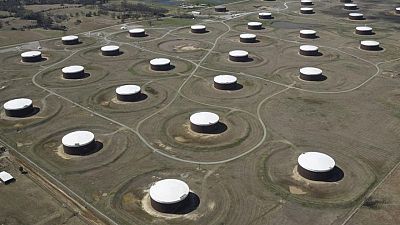 -
By David Gaffen
NEWYORK -Oil prices rose more than 1% on Wednesday as investors weighed conflicting statements on the possible withdrawal of some Russian troops from around Ukraine.
Futures fell after the settlement, however, after U.S. and Iranian officials said they were much closer to an agreement on the latter's nuclear weapons development that would allow it to ramp up global oil sales.
Russia's threatening posture toward Ukraine has dominated oil markets for several weeks, with concerns that supply disruptions from the major producer in a tight global market could push oil prices to $100 a barrel.
"The market has been reflective of what the situation has been and what it could be, which is ambiguity from one day to the next," said Edward Morse, global head of commodities research at Citi.
Oil was supported by weekly data that showed U.S. fuel demand holding at record highs, while crude inventories at the Cushing, Oklahoma, storage hub and delivery point for U.S. futures dropped to their lowest since September 2018. [EIA/S]
Brent crude settled up $1.52, or 1.6%, to $94.81 a barrel. U.S. West Texas Intermediate (WTI) crude ended up $1.59, or 1.7%, to $93.66, pulling back from the day's high of $95.01 a barrel.
On Monday, both benchmarks hit their highest since September 2014, with Brent touching $96.78 and WTI reaching $95.82.
Following the close, the U.S. State Department said it was in the midst of the final stages of Iran nuclear talks, while Iran's top nuclear negotiator Ali Bagheri Kani tweeted that after weeks of intensive talks, "we are closer than ever to an agreement."
Oil dropped sharply, albeit on thin volume, with Brent and U.S. crude both falling 1%.
"The devil is going to be in the details and how quickly Iranian oil can resume," said Phil Flynn, senior analyst at Price Futures Group in Chicago.
The United States and NATO said Russia was still building up troops around Ukraine on Wednesday despite Moscow's insistence it was pulling back, questioning President Vladimir Putin's stated desire to negotiate a solution to the crisis.
"The risk of a full-scale invasion has receded a bit. But we are unlikely to move out of the current status quo," said Bjarne Schieldrop, chief commodities analyst at SEB in Oslo.
Russia's finance minister said the country would be ready to re-route energy supplies should Western sanctions target its energy sector.
U.S. crude inventories rose by 1.1 million barrels last week, but overall inventories at the Cushing hub dropped by 1.9 million barrels, and product supplied – a proxy for demand – hit a record 22.1 million barrels per day over the past four weeks, the Energy Information Administration said. [EIA/S]
"The EIA inventories reflected the power outages we saw in Texas that impacted more than 1 million bpd of capacity last weekend," said Andy Lipow, president of Lipow Oil Associates. "The situation in Ukraine is overwhelming the EIA data."
Oil producers have struggled to keep up with demand or their own production targets. The International Energy Agency's head Fatih Birol called on the Organization of the Petroleum Exporting Countries (OPEC) and their allies, known as OPEC+, to narrow the gap between their oil production targets and actual output.