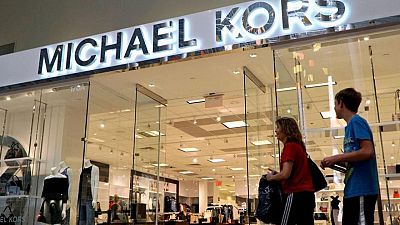 -
By Ananya Mariam Rajesh and Uday Sampath Kumar
-Michael Kors owner Capri Holdings on Wednesday reported a 24% jump in holiday-quarter sales and raised its full-year outlook, saying it would further increase prices across its brands to take advantage of soaring demand for high fashion.
Shares of the company, which also owns Versace and Jimmy Choo, jumped 10% as it extended a string of strong performances from luxury goods companies in recent weeks.
Capri joins European peers LVMH, Burberry, and Prada in showing a strong rebound from the worst troughs of the COVID-19 pandemic, thanks to a desire among cooped-up consumers to spoil themselves with designer handbags and apparel.
Like its rivals, Capri also said its sales were driven by demand in the United States and Europe. However, sales in Mainland China fell due to COVID-19-related lockdowns and store closures.
The company's total revenue rose to $1.61 billion in the third quarter ended Dec. 25, ticking back up above pre-pandemic levels.
Chief Executive Officer John Idol said the company is now looking to reposition its brands, especially Versace, at higher price points.
"We've seen absolutely no consumer resistance to any of the price increases that we have taken, and there will be more as well," Idol said on a call with analysts.
Previous price hikes and fewer promotions helped Capri expand profit margins amid soaring manufacturing and shipping expenses.
"Capri continues to impress on revenues and margins as they used the pandemic to re-fashion their business," BMO Capital Markets analyst Simeon Siegel said.
"We believe they are one of the few brands that are emerging healthier from the pandemic."
The company forecasts fiscal 2022 revenue of $5.56 billion, compared with its prior estimate of $5.4 billion, while it expects annual profit per share to be $6, up from $5.30 per share.
Capri also projected fiscal 2023 revenue of about $6.1 billion, above analysts estimates of $5.97 billion.