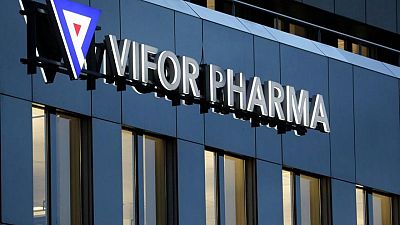 -
By John Revill and Byron Kaye
ZURICH/SYDNEY -Vifor Pharma's shares surged more than 15% in early trading on Monday after the Swiss drugmaker and Australia's CSL both confirmed they were talking about a potential merger.
Excitement about a deal, which Australian media said could be worth $12 billion, pushed Vifor's share price to 136.75 Swiss francs, adding 1.2 billion to its market capitalisation which rose to 8.87 billion francs ($9.60 billion).
One large shareholder, who declined to be identified, told Reuters they would accept an offer of 160 francs per share or more.
Vifor Pharma, which used to be known as Galenica, had already seen its shares rise more 20% after news of the potential deal was first reported earlier in December.
"Vifor is in discussions with CSL about a possible transaction. No decisions have been made yet and there is no time frame for this," Vifor said.
"Until then, Vifor does not comment on these discussions," said the company which works on iron deficiency, nephrology and cardio-renal therapies.
A $12 billion deal is expected to be finalised on Tuesday, The Australian newspaper reported. Investment bankers involved in negotiations flew from Sydney to Melbourne on Monday ahead of an announcement, it reported, citing sources with knowledge of the situation.
CSL, Australia's fourth-largest company, also confirmed on Monday it was speaking to Vifor Pharma about a deal, as it looks to diversify beyond blood plasma products to generate growth.
A successful deal would be CSL's biggest acquisition and give it access to Vifor's treatments for iron deficiency, kidney and cardio-renal diseases, as well as its production sites in Switzerland and Portugal, analysts said.
CSL has pointed to a soft market for blood collections due to COVID-19 movement restrictions and concerns about the coronavirus, although it has said collection rates are improving for the business unit which generates nearly nine-tenths of its profit.
Prospects for CSL's vaccine business, meanwhile, dimmed after it suspended its own COVID-19 vaccine development and Australia opted for Pfizer/BioNTech's product as its major inoculation tool over AstraZeneca Plc's shot, which CSL manufactures.
($1 = 1.4013 Australian dollars)