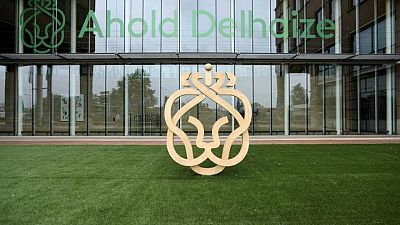 -
By Anthony Deutsch
AMSTERDAM – Supermarket group Ahold Delhaize upgraded its full-year guidance on Wednesday after posting third-quarter earnings at the high end of expectations, sending its shares to a two-decade high.
The owner of the Stop & Shop, Giant, Food Lion and Hannaford chains reported third-quarter underlying operating income of 812 million euros ($938 million), at top of the range from analyst forecasts compiled by the company.
Ahold, which operates in the United States and Europe, reported sales of 18.5 billion euros in the three-month period, against consensus analyst expectations for 18 billion euros.
"We saw a very strong third quarter where you saw higher sales, earnings and free cash flow that led us to say with good confidence that we're able to increase our guidance for the rest of the year," Ahold finance chief Natalie Knight told Reuters.
In the United States, Ahold's largest market, comparable sales excluding gasoline increased 2.9%, while in Europe comparable sales excluding gasoline declined by 0.2%.
Group online sales grew 29.2% at constant currency rates.
"There is a lot of momentum, actually more than in Q1 and Q2," Knight said. "Not only have we learned a lot from the pandemic, but we are also gaining (market) share."
ING analyst Hans D'Haese said in a note that habits formed during the pandemic, such as eating at home, healthier consumption and online grocery shopping, "are proving resilient, which bodes well for the remainder of the year and 2022″.
Ahold lifted the 2021 underlying operating margin outlook to 4.4% from 4.3% while the underlying earnings per share (EPS) forecast on a pre-pandemic basis was nudged up to growth "in the low to mid-20s range relative to 2019, versus high-teen growth previously".
The 2021 free cash flow outlook was increased to 1.7 billion euros from 1.6 billion euros.
Ahold's shares climb nearly 4% in Amsterdam trading, hitting their highest price since 2001.
($1 = 0.8655 euros)