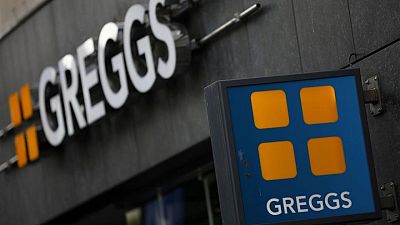 -
By James Davey
LONDON -British baker and fast food chain Greggs set out an ambitious growth target as its raised its full-year profit outlook on the back of strong trading in the latest quarter despite staffing and supply chain disruption.
Shares in Greggs rose as much as 12%, hitting a record high and extending 2021 gains to more than 75%, after the group detailed a plan to double annual turnover to about 2.4 billion pounds ($3.27 billion) by 2026.
Greggs, best known for its sausage rolls, steak bakes, vegan snacks and sweet treats, plans to accelerate its rate of net shop openings to about 150 per year from 2022 from 100 in 2021 and sees potential for at least 3,000 shops from 2,146 currently.
The group also plans to extend evening trading to more shops and build on the success of a delivery service in partnership with Just Eat that has already been rolled out to 943 outlets.
In the long term it sees potential to expand overseas.
Greggs' third quarter like-for-like sales rose 3.5% compared to two years ago, before the pandemic impacted trading.
It said growth was particularly strong in August when a "staycation" effect was evident and remained in positive territory in September, with two-year like-for-like growth of 3.0% in the four weeks to Oct. 2.
However, the group said it had not been immune to Britain's well documented pressures on staffing and supply chains, and had seen some disruption to the availability of labour and supply of ingredients and products in recent months.
"I wake up every morning and I find out what's short that day because something has been disrupted in the supply chain," CEO Roger Whiteside told Reuters.
"There's some different thing going on every day, with some different item."
Despite acute pressures in the pork industry, he said supplies of sausage rolls were safe.
Food input inflation pressures were also increasing.
Greggs has short-term protection due to its forward buying positions but expected costs to increase towards the end of 2021 and into 2022.
Whiteside said he hoped Greggs could avoid passing this on to consumers.
"We have to watch the market. Greggs is a value leader so what we won't do is allow our leadership in value to be eroded, he said.
Despite all the disruption Greggs said its operational cost control has been good and subject to any unexpected COVID-19 disruption expected the full-year outcome to be ahead of previous expectations.
Prior to Tuesday's update analysts' average forecast for full-year pretax profit was 133 million pounds, according to Refinitiv data, versus a 13.7 million pound loss in 2020.
($1 = 0.7344 pounds)