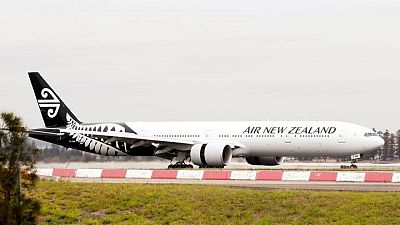 -
– Air New Zealand Ltd suspended its earnings outlook for fiscal 2022 on Thursday and posted a bigger annual loss as closed international borders impair the carrier's ability to recover from the pandemic.
The airline's domestic market had recovered strongly due to the country's control of COVID-19 and it posted a bounce in Australian traffic when a quarantine-free travel bubble was in operation, but that was suspended last month.
Air New Zealand reported a 36% fall in passengers carried during the financial year 2021 compared with a year earlier, which had been less affected by the pandemic.
Its underlying pre-tax loss for the year widened to NZ$440 million ($306.86 million), from a loss of NZ$87 million a year earlier, and the carrier said dividends would remain suspended.
The company had said in June it expected its loss before other significant items and taxation for fiscal 2022 to be comparable with that for fiscal 2021.
New Zealand's international borders remain closed, and the country went into a lockdown last week due to a small outbreak of the Delta variant of COVID-19. That means the airline is currently flying only a skeleton domestic network for essential travellers.
Air New Zealand this month delayed a planned capital raising for the second time this year, as uncertainty around COVID-19 forced the government to back out of investing at present.
($1 = 1.4339 New Zealand dollars)