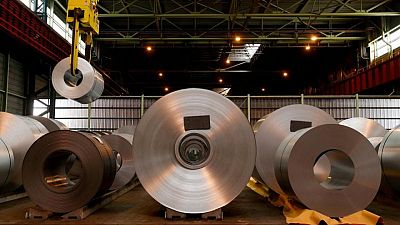 -
By Marine Strauss
BRUSSELS -ArcelorMittal, the world's largest steelmaker, profited from the continued economic recovery from the COVID-19 pandemic to report its highest quarterly earnings in 13 years, beating expectations, and announced a new share buyback.
The Luxembourg-based company also said it had raised its forecast for the growth in global steel consumption this year to 7.5-8.5% from 4.5-5.5% previously.
Chief Executive Aditya Mittal said the company had seen a continued strong recovery and lean inventories in the second quarter.
"This resulted in even healthier spreads in our core markets than in the first three months of the year, supporting the best quarterly and half-year result we have reported since 2008," he said.
ArcelorMittal said second-quarter core profit (EBITDA), the figure most watched by the market, was $5.1 billion, almost seven times higher than $700 million a year earlier and above analysts' average forecast in a company poll of $4.7 billion.
The company's shares were up 3.6% at 0920 GMT, putting them among the top gainers on FTSEurofirst 300 index of leading European shares.
"Q3 2021 should benefit from price lag effects in two of its largest divisions (Europe and NAFTA) and mining coming back to normalized production," Stijn Demeester, an analyst at ING said in a note.
ArcelorMittal said the improvement in steel spreads was not yet fully reflected in the group's results due to order book lags.
It added that ongoing policy changes in China to curb inflation and a focus on decarbonisation could have lasting positive effects on the global steel industry outside of China.
The company said it would start a $2.2 billion buyback programme to be completed by the end of 2021.
The company also set a target for reducing carbon emissions intensity globally by 25% by 2030 and raised its European target from 30% to 35%. The new decarbonisation plan will require around $10 billion in investment. It said executive remuneration would be linked to these targets, without giving further details.
"All industries have to move forward to decarbonise otherwise it will be very difficult to contain the temperature rise," Mittal told a conference call.