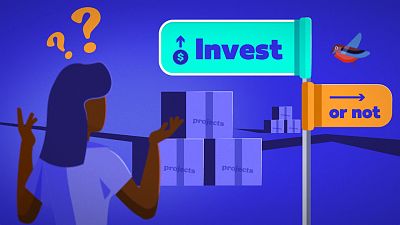 Why is there a lack of investment in Europe?
Some highly innovative sectors, such as medical technology, are often seen as 'risky' by investors and find it hard to get investment.
SMEs, particularly those without a credit history, often struggle to raise capital and most rely on financing from banks.
The COVID pandemic has also slowed down investment. A European Investment Bank survey found that 45% of the companies it spoke to were expecting to reduce investments, particularly in innovation, in the aftermath of the pandemic.
How will InvestEU help?
Through InvestEU, the European Commission offers a guarantee of €26 billion from the EU budget and €7 billion from partner banks, to unlock more investment and encourage investors to finance more projects.
The Commission works with the European Investment Bank as a key partner, as well as other national promotional banks and international financial institutions, allowing them to finance operations that are riskier than their average investments.
InvestEU is expected to mobilise around €370 billion in public and private financing.
What will InvestEU money be spent on?
The money will go towards projects that contribute to innovation and going digital, support SMEs - particularly those hard hit by the COVID crisis, foster social inclusion and boost sustainable infrastructure.
Plus, at least 30% of all the investments must contribute to building a greener Europe.
InvestEU follows in the steps of the European fund for strategic investments (EFSI), known as the Juncker Plan.
EFSI successfully facilitated extra investment of €500 billion and created more than 1.4 million jobs.