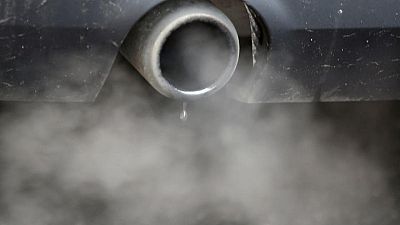 LONDON (Reuters) – Britain plans to publish a table on May 14 showing how many free carbon permits will be issued to industrial firms to help them comply with its domestic Emissions Trading System (ETS), a government update said on Wednesday.
The ETS, which charges emitters such as power plants and industrial factories for each tonne of carbon dioxide they emit, is part of Britain's plan to reach a net zero carbon emissions target by 2050.
Some companies such as energy intensive industrial firms covered by the scheme are given free carbon permits, called free allocation, to help protect their competitiveness against international firms with looser environmental regulations.
The number of permits to be awarded is calculated based on industry emission benchmarks and will be the same as those used under the Euoperan Union's ETS, an update on the Department for Business, Energy and Industrial Strategy's (BEIS) website said.
"Allowances for the 2021 scheme year will be allocated to operator holding accounts in the UK ETS Registry shortly after publication of the Allocation Table," BEIS said.
Britain left the EU ETS at the end of 2020 following Brexit.
The first auction of permits under Britain's domestic scheme will take place on May 19, with a total of 83 million permits auctioned in 2021.
(Reporting By Susanna Twidale; Editing by Kim Coghill)