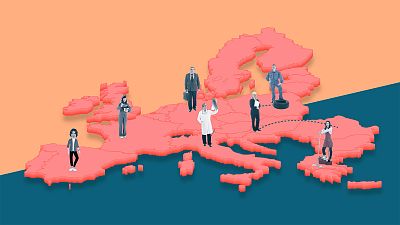 More and more Europeans live in another EU member state which is not their country of origin. In this crash course Real Economy gives a brief overview of what workers can expect, when it comes to their legal and social security rights, should they decide to move to another EU country for work.
Around 17 million EU citizens are now living or working abroad in Europe. Of those, 12.4 million are of working age. It means 4 percent of Europe's working population lives in another EU country.
Social security rights
There are four main areas of social security benefits: healthcare, maternity/paternity benefits, unemployment and pension rights.
The EU provides common rules to protect social security rights when moving within Europe.
The four main principles
You are covered by the legislation of one country at a time so you only pay contributions in one country.
You have the same rights and obligations as the nationals of the country where you are covered.
When you claim a benefit, your previous periods of insurance, work or residence in other countries are taken into account if necessary.
If you are entitled to a cash benefit from one country, you may generally receive it even if you are no longer living in that country.