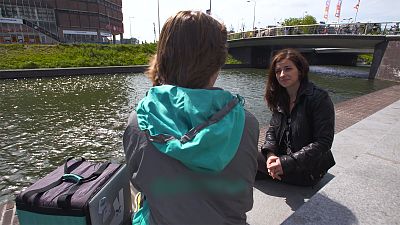 This young man is a Dutch food delivery rider. He is also an active member of "Riders Union", a group of food delivery workers backed by FNV – a Dutch trade union. He preferred to remain anonymous to speak about his status of being self-employed and the lack of social protection he and his peers face.
Anonymous food delivery rider & member of 'Riders Union'
"At the moment, I am not insured for riding for my food company, not more than I would just ride my bike in my free time. I am 19-years-old, and my food delivery company sees me as an entrepreneur while I don't feel like an entrepreneur because I have to do what my phone says. If my phone says: 'Go there', I go there. If it says: 'Take this', I take it. So what am I doing myself? If I get ill for 2 years or get sick for 2 years, then it would mean there's no income while if I was an employee, I would just get an income. You never know what you're going to earn so you can't calculate...well this is affordable or this is not affordable because you just don't know what you're going to earn. Most of the time it is not affordable.
"I know people from my food delivery company who haven't been able to work for a period because of falling down from the bike, or having an accident or being sick. My food company says that you have to manage your own insurance and they are not responsible for this. But, in fact, I don't feel like an entrepreneur should fix this himself. I think this should just be done by my company. I am an active member of the 'Riders Union'. It wants my food delivery company to be an employer and also wants to help the riders to have a stronger voice within their food delivery companies. Quite often people ask me: 'How is it to work for this company? How much do you earn? Are you insured?' People really care about this and I think that's really important because the food companies... they don't really seem to care about the riders, but luckily the people on the street do."