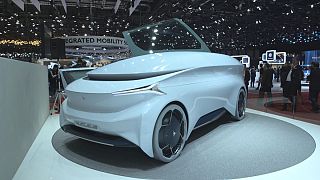 There's an electric atmosphere at the annual international Geneva Motor Show. Running until the 18th of March, the show gives car manufacturers the chance to showcase their latest models and concepts, with Croatia's Rimac electric hypercar stealing a lot of attention with its 412km/h top speed and 1.97 0-100km/h time.
Any company today, especially in the automotive world, can't ignore electrification.

Head of Design at Morgan Motors
Fans of internal combustion powered supercars are also spoilt for choice, with a new Bugatti revealed for those who have a cool €2.65 million in the bank and the desire to spend it.
Porsche has something a little more affordable on offer. Prices start at almost €200,000 for their 911 GT3 RS, one of the most photographed and blogged cars at the event. The Geneva show version would be tricky to lose in the car park as it's so bright, but one suspects it's possible to change the colour.
On the #Porsche stand at Geneva Motor Show looking at the #911GT3RS and #Panamera e-hybrid #euronewspic.twitter.com/vQmfd10vgJ

— Jeremy Wilks (@WilksJeremy) 7 mars 2018
Morgan are making an electric car for the first time ever. The firm's 1930s design cues are intact in the EV3, which features brass switches and a bakelite drive selector, albeit with an internal electric reboot for a trending market. Jonathan Wells, the head of design at Morgan Motors explained the decision:
"Any company today, especially in the automotive world, can't ignore electrification. It's happening at a global scale, we need to think about what we're doing to our planet obviously. So it's something very important for Morgan to consider".
On the #Morganmotors stand at #GenevaMotorshow2018#GIMSSWISS#electriccarspic.twitter.com/araoiaDjmL

— Jeremy Wilks (@WilksJeremy) 7 mars 2018
Renault came to Geneva with some of its petrolhead pleasing RS models but also a large 'mobility concept' called the EZ-Go. Laurent Van Den Acker, the Senior Vice President of Corporate Design at Groupe Renualt, explained the idea to Euronews: "The Renault EZ-Go is our vision for urban mobility of the future, which is a service, it's a shared vehicle. It's a shared vehicle that you don't own anymore, it is driverless, no steering wheel, and it can actually find its way itself through the city, through an app."
Italian design house Icona had an even more upmarket autonomous vehicle on its stand, with an interior with seating for six and the quality materials one would associate with a luxury yacht or jet. VW was another of the firms to present electric and autonomous concepts to the crowds, with a concept called I.D. Vizzion, that even incorporates artificial intelligence to learn about a driver's habits.
Geneva has a special place in the car-lover's heart, because it features some of the smaller German and Italian performance brands and tuners that are seldom seen at other shows, such as Ruf and Touring of Milan.
It has a special place in the heart of car salesmen too, because of the wealthy locals and visitors. So does anyone actually buy a car here? Euronews put that question to Alpine, the newly relaunched French sports car maker whose A110 was surrounded by crowds. "We do sell cars here, absolutely," said Design Director Antony Villain. "There are lots of customers at Geneva, lots of customers for sports cars."