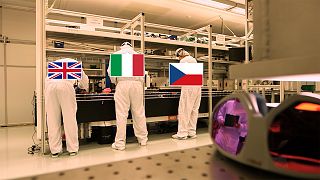 Cohesion Policy. There's a chance you haven't heard of it. It's the mechanism used by the European Union to speed up the economies of regions which are falling behind in terms of GDP and growth.
It's not sent to countries specifically, and there are many who complain that richer countries in Western Europe are propping up those in the East. Anti-EU politicians, in particular, like to support this line.
However, the funds are also distributed within richer countries which have struggling poorer regions.
For example, the UK is relatively wealthy with the third largest economy in Europe. But despite this, it has some of the poorest regions in Northern Europe. (Although it's important to mention that when compared to Europe as a whole the poorest regions are all in Poland, Bulgaria and Romania). One of those poor areas in the UK in Wales. EU funds there have sponsored numerous projects including a new university campus in Swansea. Alongside this £89.5 million went to the 'Superfast Cymru' programme which aimed to improve the broadband connections of 550,000 homes and small businesses. There is also a sum of £150 million being put towards the development of a new South Wales Metro. So you see, money from the Cohesion Policy also goes towards wealthier countries with poorer regions.
An independent review which looked at the value of EU investments from the period 2007-2013 highlighted the added value of Cohesion Policy. All EU member states have benefited from Cohesion Policy. It's meant an additional €3 trillion in GDP growth by the end of 2023. During the surveyed period, one million jobs were created by the policy, and it had invested in 400,000 SMEs (small and medium-sized enterprises).
Primarily Cohesion Policy gives money to areas that great jobs and growth, build transport links, support enterprise, help the environment and support innovation. In its essence, it's there to help people.
Euronews travelled to Prague where it spoke to people working for HiLase, a company which makes lasers. The company employs ninety people from all over Europe and shares technologies with France and Italy.
The EU has also helped build up the Czech Republic's railway. The country's first Deputy Minister for Transport Tomas Cocek outlined why it's important to improve transport links within the country. ''It's quite important to complete all the corridors going through the Czech Republic because when it is completed it will help not only Czech companies but also companies from Germany, Austria, Poland, and southern Europe, with their businesses.''
What is Cohesion Policy?
Cohesion Policy is the name of the policy which funds thousands of projects across the EU. The money for these projects comes from three main sources:
European Regional Development Fund (ERDF),

European Social Fund (ESF),

The Cohesion Fund (this applies to countries with a GDP which is 90% lower than the average of 27 EU member states)
What does Cohesion Policy do?
Basically, the policy aims to reduce the disparity between various regions. It reduces 'backwardness' in the EU's 'least favoured regions'. In helping these countries, Cohesion Policy helps both them and their neighbours, to grow.
How are the funds distributed?
In 2013 €351.8 billion was set aside, around a third of the EU's budget, for cohesion policy measures. To quote Corina Cretu, the European Commissioner of Regional Policy "We have some regions that are still with a GDP per capita before the crisis, in spite of the growth that we are facing in Europe... we'll design a strategy to accelerate growth in these regions." In the allocation of funds, priority is given to these countries and regions who are seen to be lagging behind.
What kind of projects benefit from Cohesion Policy?
One would be a Brandenburg start-up, called Kimematics GmbH (Tinkerbots). It's one of the SMEs which has received help from Cohesion Policy. They make small robots for children.
Speaking to Euronews, Kimematics CTO and Co-founder Christian Guder said "It is very difficult in Europe to find investors who are crazy enough to invest their money in such a challenging business, and for that reason, we were very happy to meet institutional investors, from this area… Now 4 years later there are 30 people in this company, and growing ever since."