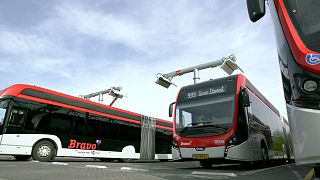 It's one of the challenges facing entrepreneurs; how to obtain funding, innovate and win new customers internationally.
"They found us a coach in the UK, and that helped us to identify the potential markets... The same for Australia and New Zealand."

Business Development Director, Heliox
The Netherlands based Enterprise Europe Network does just this by analysing the needs of the business and coaching entrepreneurs.
More about green transport and Enterprise Europe Network
Transport represents almost a quarter of Europe's greenhouse gas emissions and is the main cause of air pollution in cities.
To meet the EU-wide objective to reduce CO2 emissions by at least 40% in 2030, reduction of emissions from road transport is necessary. New green technologies, such as electric cars and buses, can help meet these objectives.
The

EEN

helps ambitious small and medium-sized enterprises (

SME

s) innovate and grow internationally in the EU and beyond. The Network is active in more than 60 countries worldwide. It brings together 3,000 experts from more than 600 member organisations – all renowned for their excellence in business support.
The Network experts recognise innovation potential and can help

SME

s access funding, such as for example via the

SME

Instrument which helps high-potential

SME

s to develop ground-breaking innovative ideas for products, services or processes that are ready to face global market competition.
Useful links
Heliox is one local business helped by the network.
With green public transport networks multiplying and Europe aiming to reduce its CO2 emissions by at least 40% by 2030, to be effective, buses must be recharged regularly and quickly.
Heliox's production facility now develops ultra-fast battery chargers for electric buses on the streets of Eindhoven.
Around 60 jobs have already been created there, not counting the activity of subcontractors.
Very soon, a fleet of buses at Amsterdam Airport will be equip with these chargers.
Help from the Enterprise Europe Network allowed them to access European funds for innovation through the Horizon 2020 SME instrument and to benefit from coaching to improve their marketing and find international clients.
The Enterprise Europe Network also helps companies attending international matchmaking events, and provides them information about property rights.
With more than 3000 experts in 600 member organisations in more than 60 countries, they will listen to your needs and help you realise your international ambitions.