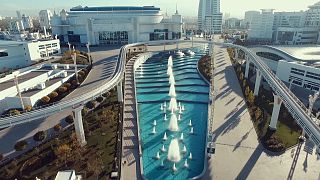 Turkmenistan's capital Ashgabat is gearing up to host one of the main sporting events in the region – the Asian Indoor and Martial Arts Games.
The competition, which kicks off in September, will draw participants from some 60 countries – all members of the Asia and Oceania National Olympic committees.
It will be held in a huge Olympic complex in the heart of the city made up of 30 buildings. Construction is still underway on the Olympic Stadium, which will host the opening ceremony. A very distinctive feature towers above it.
"The statue that you can see on top of the stadium is that of an Akhal-Teke horse, which is a symbol of Turkmenistan. It's something the Turkmen people are very proud of," explains Dayanch Gulgeldiyev, chairman of the Games' Executive Committee.
The athletes will compete in 21 different categories, including traditional and belt wrestling, horse-riding, cycling, tennis, chess, bowling, as well as electronic sports.
A velodrome, that can hold up to 6,000 spectators, has been built specifically for the track cycling competition. While the first foreign teams are only expected in early September, local sportsmen are taking advantage of the track to train. However, summer in Ashgabat, where temperature exceed 40°C, is not the ideal time to work out.
"Training morning and evening in this hot weather takes a lot of energy," says athelte Rasul Hashodjaev. "So, we need to restock our calories with natural products and a lot of water, of course."
One particular feature of the complex will make life much easier for the athletes: a monorail.
"It not only connects the different venues, but also leads to the Athletes' Village – the place where the sportsmen and -women will live and relax," says Euronews' Maria Korenyuk.
The village is made up of more than 1.300 new apartments to accommodate the athletes, the team officials and the technicians. It also includes restaurants, a library, a cinema and a luxury hotel.
"There will be banking facilities, entertainment and recreational spaces, post offices, cafes and shopping centers – a complete variety of choice for the athletes in their leisure time," says the Venue Operations Manager, Batyr Kokanov.
It's not clear yet what will happen to the venues and the apartments after the Games. Some hope they will be made available for local athletes to train and will be used to host other sporting events in Turkmenistan.
"Such venues could help develop sports here. Of course, it will depend on how they are used and on the schedule. But until now, we didn't have anything… We could organize training camps here and host international competitions," says swimming coach Sergey Yepifanov.
The Asian Indoor and Martial Arts Games kick off on September 17th for ten days. This fifth edition is expected to be the biggest in the Games' history and is the first to be hosted by a Central Asian nation.